The Daily Escape: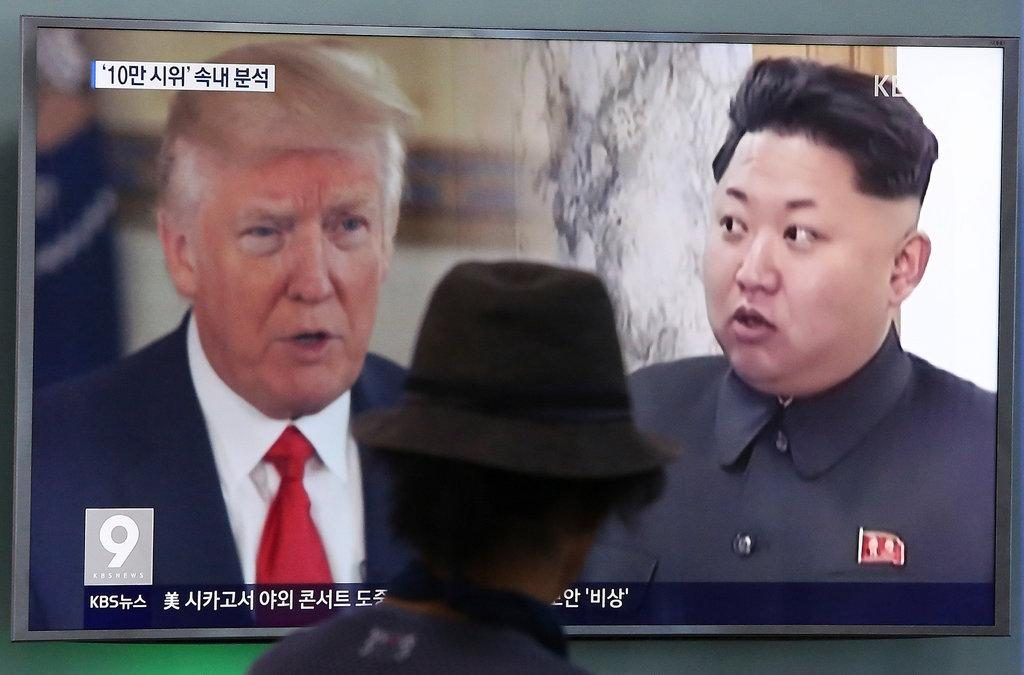 Photo of TV broadcast by the Korean Broadcasting System, South Korea
We've gone from Trump and Kim Jong-un tweeting about who had the bigger nuclear missile button to possibly sitting down together in June. Joe Cirincione writes at Defense One:
Even if you politically oppose President Donald Trump and CIA Director Mike Pompeo, you should welcome Pompeo's surprise meeting with North Korean dictator Kim Jung Un. More than anything else that has happened in the Trump presidency, this trip could bring us closer to resolving one of the most dangerous nuclear crises in the world today.
If the meeting happens, it will be the first meeting between any President Kim and a US president. The highest-level contact between the two nations occurred in 2000 between Secretary of State Madeleine Albright and Kim's father, Kim Jong Il.
Those talks came close to forging a deal to end North Korea's nuclear program before they had even tested any bombs. Albright's successor as Secretary of State, Colin Powell, promised in March, 2001 that the GW Bush administration would pick up where the Clinton administration left off.
But Bush identified North Korea as one of the Axis of Evil, and he, along with Dick Cheney, killed the negotiation process. North Korea exploded its first bomb five years later. Jung H. Pak writing for Brookings, picks up the story about Kim the Younger:
For the first seven years of his rule, from December 2011 to December 2017, Kim has gone full force on his version of "maximum pressure." He has tested nearly 90 ballistic missiles (three times more than that of his father and grandfather combined) and conducted four of North Korea's six nuclear tests, including the biggest one in September 2017, which had an estimated yield of 150 kilotons.
At the same time, he refused attempts by the US, South Korea, and China to engage, refusing to meet with any foreign head of state. Until now. Back to Joe Cirincione:
The Pompeo trip is an effort to correct the mistakes of the past. His talks with Kim, and the high-level talks between North and South Korea in preparation for their own summit, clearly establishes new, serious momentum towards deals with Pyongyang.
And now, Republicans and a few neo-cons are offering strong support for the very negotiations they slammed when Democrats (and Powell) tried them. Now that the GOP has the presidency, negotiation with North Korea is no longer appeasement. Cirincione concludes: (emphasis by Wrongo)
This is why Republicans do arms control better than Democrats. They are not smarter nor do they strike better deals. But when a Republican president supports arms reductions or peace talks, he takes three-quarters of the party with him and the Democrats swing solidly in support. That delivers the bipartisan consensus needed for sustained national security policy. Republican presidents have led the way in nuclear reductions.
Will Trump and Kim meet? Probably, but where is a big question. The NYT reports that Kim doesn't have a plane that can travel more than 3,000 miles. The Times quotes Sue Mi Terry, a former CIA analyst who worked on Korea issues:
We know he has a plane, but it's an old plane….No one really knows if it works.
Imagine: His missiles can fly for 8,000-12,000 miles, but his plane can't.
Should we have any faith that Trump can work with South Korea to finally end the Korean War and de-nuclearize the Korean peninsula? Lots could go wrong, and the summit won't take place until June. That is years away in Trump time.
It is difficult to imagine that North Korea will give up its nukes any time soon. What assurances can Trump give Kim that North Korea would not be sacrificing its security if it denuclearized? Is the US credible if Trump says he'll guarantee North Korea's security? Of course not.
Maybe both win just by having a meeting, even if it fails. Kim can be seen as continuing to call the tune in North Asia, while Trump can say that he tried a bold move to achieve a lasting peace, without losing anything strategically.
Would the two sides agree to a verifiable freeze of North Korea nuclear programs? And what would the US give in return? Remove its troops from South Korea?
A grand bargain may be impossible, but isn't walking towards disarmament better than running toward nuclear war?