The Daily Escape: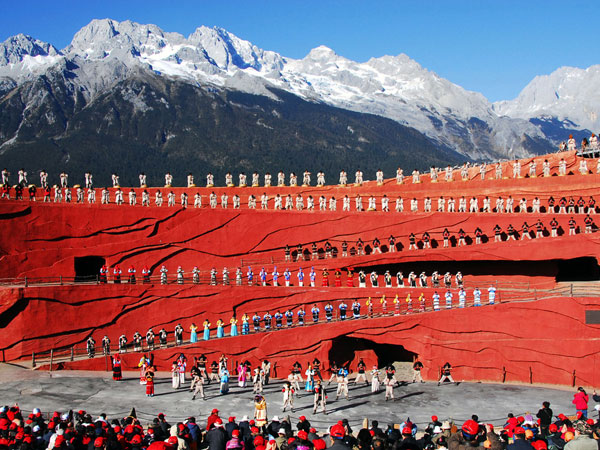 "Impressions of Lijiang" Show, Yunnan Province China. Lijiang Impressions is a cultural show about the traditions and lifestyles of the minorities in Lijiang. The open-air stage is at 10,000 ft. above sea level. The Dragon Snow Mountains behind the stage are higher than 16,000 ft.
The Economic Innovation Group (EIG) has an interesting report on Distressed Communities in the US. They have surveyed changes in counties in distress, from 2000-2015, using census data. The study notes:
America's elite zip codes are home to a spectacular degree of growth and prosperity. However, millions of Americans are stuck in places where what little economic stability exists, is quickly eroding beneath their feet.
The study found that the majority of new jobs created as the recovery began came in the 20% of American ZIP codes that were already the most prosperous. The 20% of ZIP codes in the least prosperous areas generated just 1% of jobs created between 2011 and 2015.
This isn't a Republican or Democratic problem. Both parties represent distressed areas. But the economic fortunes of the haves and have-nots have widened the political chasm between them, and it has yet to be addressed by substantial policy proposals on either side of the aisle.
The EIG study captured 99% of the US population. It covers 26,000+ US zip codes that have a population of at least 500 people, the more than 3,000 counties with at least 500 people, and the nearly 800 cities with at least 50,000 people.
Here is a map from the study showing areas of economic advance and retreat: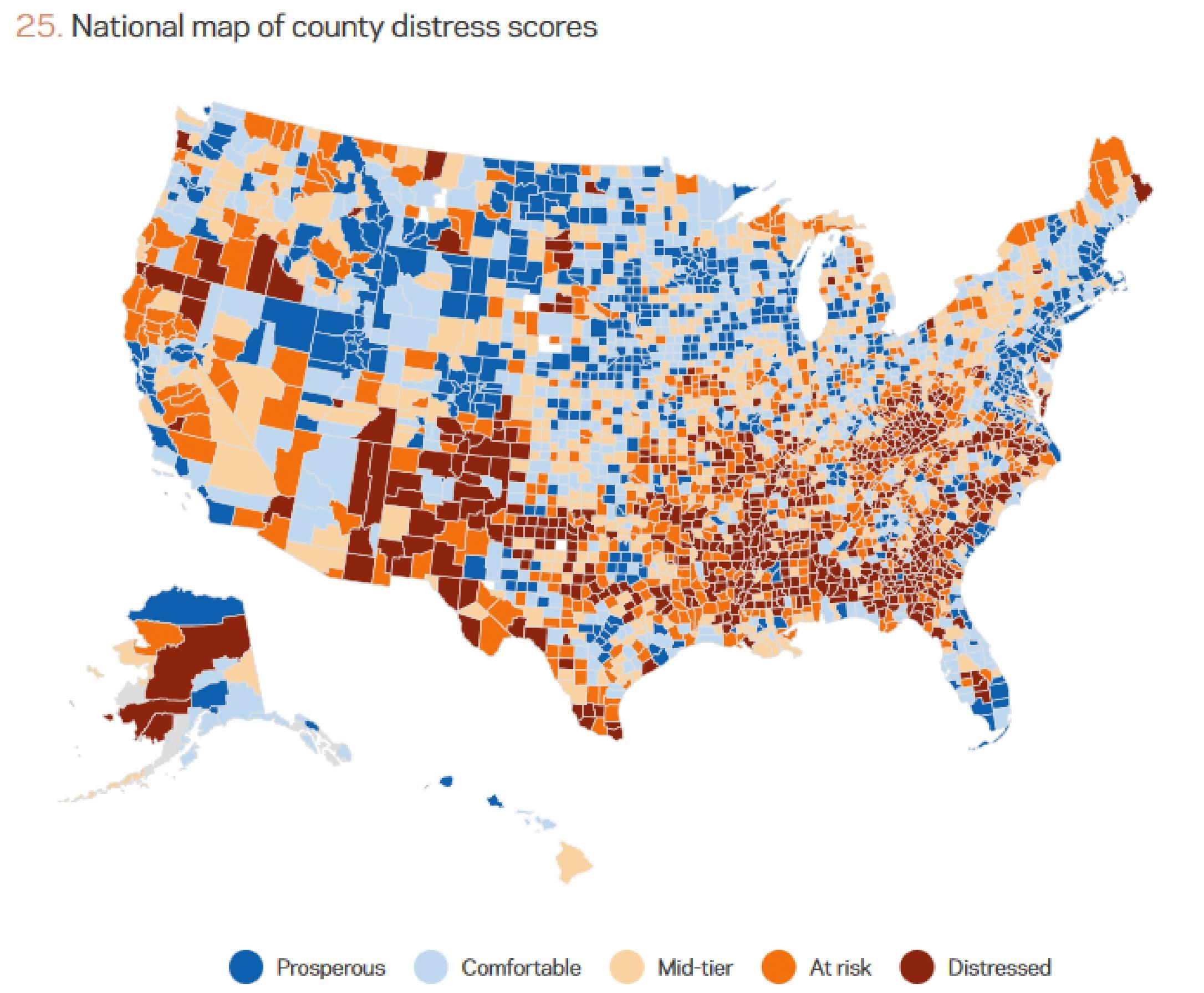 Our most significant modern recession and the subsequent deeply uneven recovery has exacerbated the gap between wealthy communities and poorer areas, creating a patchwork map of economic haves and have-nots around the country.
Here is another map from the study, showing the most disadvantaged small and mid-sized cities: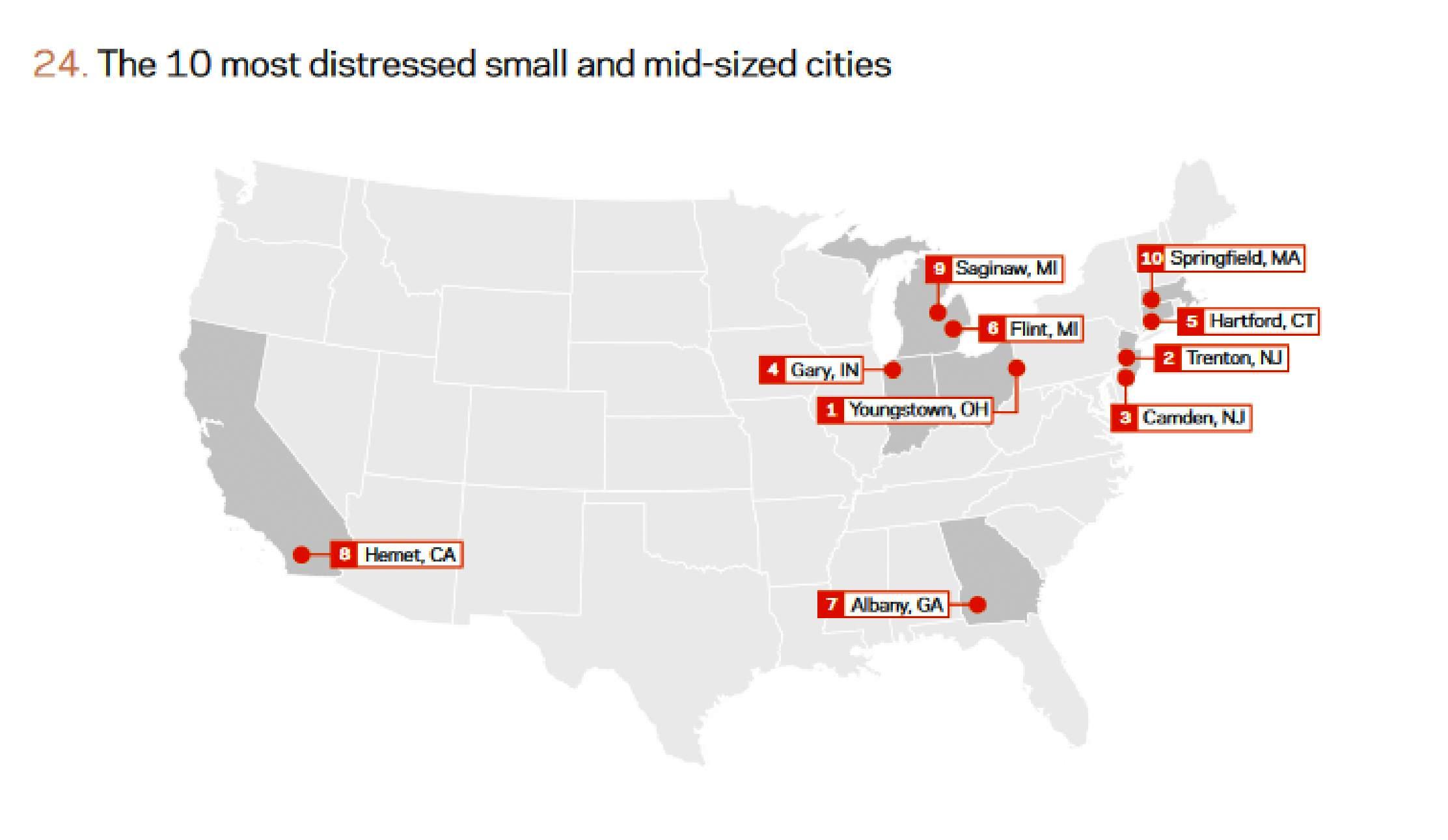 In Hartford, CT; Newark, NJ; Stockton, CA; and Trenton, NJ, more than one in five residents are now foreign-born. In general, cities with smaller foreign-born populations are more likely to be distressed: In the average distressed city, 15% of the population is foreign-born; in all other quintiles, the average is between 18 and 19%.
In the Northeast, more than two-thirds of the population living in distressed zip codes reside in high density neighborhoods, so distress in the Northeast is predominantly an urban phenomenon. In the South, nearly 60% of the distressed population resides in low density, mainly rural zip codes.  But, all types of distressed communities can be found in all regions.
A full two-thirds of distressed zip codes contained fewer jobs in 2015 than they did in 2000, while 72% saw more businesses close than open over that same time span. In total, 55% suffered net losses in both categories
Fifty-two million Americans live in the most distressed ZIP codes across the nation. Those people are more likely not to have graduated from high school. The poverty rate in those communities is 11 points higher than the national average. And adults in those communities are twice as likely to be out of work as in the wealthiest counties.
They are also far more likely to live near sites polluted or contaminated enough that the Environmental Protection Agency is working to clean them up. There are nearly 13,000 of these brownfield sites in distressed ZIP codes, compared to 3,700 in the most prosperous ZIP codes.
Those who live in distressed areas have a life expectancy almost five years shorter than those who live in prosperous areas. Rates of cancer, suicide and violence are all markedly higher in the poorest areas, and substance abuse disorders are 64% percent more likely, the report found.
The report concludes by saying:
It is fair to wonder whether a recovery that excludes tens of millions of Americans and thousands of communities deserves to be called a recovery at all.
The days of "pull yourself up by your bootstraps" are gone forever. You can't use trickle-down economics arguments to fool all of the people all of the time, and you can't even fool a majority of them for very long.
And now, time's up.
Capitalism hasn't worked for all of the people since well, never.