The Daily Escape: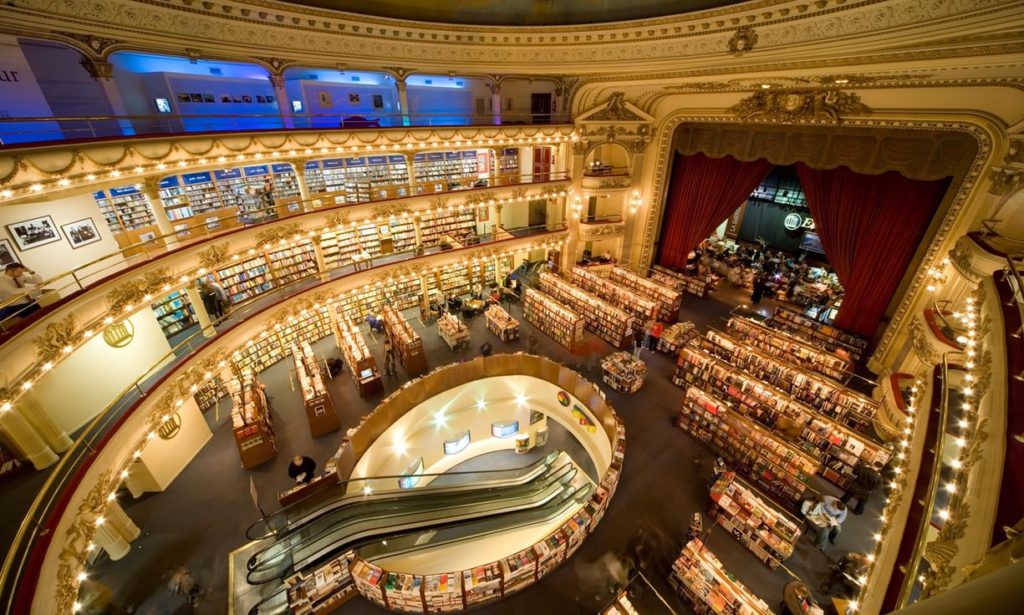 El Ateneo Grand Splendid bookstore in Buenos Aires, which has more bookstores per person than any other city in the world – photo by Alamy
One of the arguments that Republicans use to support their tax bill is that it will unleash investment, but the data say otherwise. Currently, most US economic sectors are operating far below maximum capacity utilization. Here is a Federal Reserve chart showing current industrial utilization/capacity: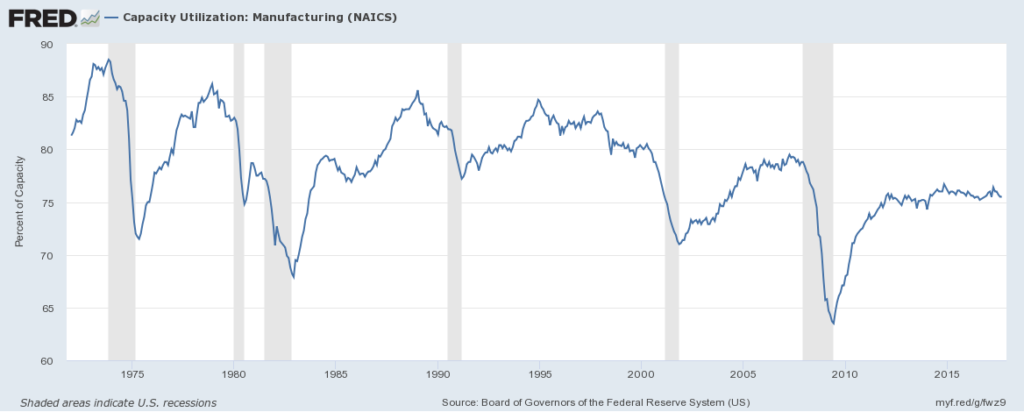 The left axis shows the percentage of utilization across both durable and non-durable goods. The US is currently tracking at about 75% utilization, which is about as low as it gets in non-recession times. What that implies is corporations have no need to invest in additional capacity in the US. They have plenty of spare capacity to meet any spike in demand, should it arise. So, today, it makes far more sense for companies to bring unused capacity back online rather than to buy new equipment.
So, what would corporations do with a windfall tax cut that they didn't need to invest in the US? Won't they just invest it outside the US in order to keep expanding their global markets? There would be no increased revenues or jobs from investment at home, so why would they keep the windfall at home? That wouldn't be smart, and those guys and their tax lawyers are pretty smart.
What corporations might do with increased after-tax income:
Buy back more of their own stock
Update their factories in Mexico, China or elsewhere around the world
Invest in companies working on artificial intelligence or robots with human-like dexterity. You know, something on the bleeding edge!
The corporates will ask the question: What do Americans need that they do not have? More self-driving cars?
American consumers simply do not earn enough money to purchase the products that are already available. Total household debt now exceeds the previous peak in the 3rd quarter of 2008. You know, the peak driven by the housing bubble and the accompanying refinancing of debt.
So if a corporation does come up with some product for which there is a genuine need, who will have the money to buy it? What products (or services) would Americans stop purchasing so that they could use their borrowed money to buy this new product?
And given that the tax cuts will not accrue to anyone who makes under $75k the way the GOP has designed their tax cuts, there won't be any more money in the pockets of the middle class to add jobs and GDP growth here at home. Here is a chart from David Leonhardt in the Sunday NYT, showing what everyone who will gain from their discredited trickle down tax plan, once it is fully implemented: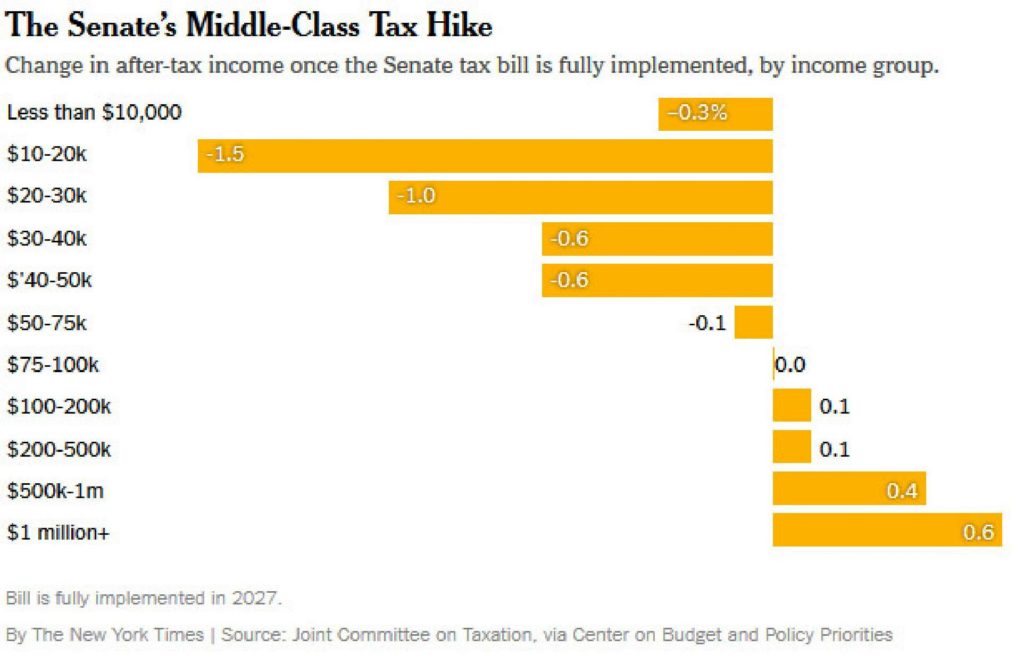 Notice that it doesn't go to the people who really need it.
The Republican's belief in tax cuts and supply side economics is a cult religion. They just don't care about evidence.
So, time to wake up! We have broken subways, broken bridges, and stagnant wages. Why not spend the money on infrastructure instead of giving it away in tax cuts to be used offshore?
That might actually do some good. This could be the final opportunity for the Senate (the House is a lost cause) to do the right thing and actually represent the interests of the middle class in the US. It is way past time for this 100-member body to set aside the petty complaints of their corporate benefactors and the rich, and offer something real to the ordinary tax-paying citizens who try to pay their bills and put a little aside for retirement.
Time to wake up Senators! We need you to escape your cognitive dissonance, and think about what you are doing. To help you wake up, here is U2 with "Stuck in a Moment" from their 2000 album, "All That You Can't Leave Behind":
Takeaway Lyric:
You've got to get yourself together
You've got stuck in a moment
And now you can't get out of it
Don't say that later will be better
Now you're stuck in a moment
And you can't get out of it
Those who read the Wrongologist in email can view the video here.