100 years ago yesterday, Woodrow Wilson signed the bill that created the National Park Service (NPS). The National Parks are truly a great American resource, showing us nature in a near-pristine form, much as it might have been thousands of years ago. The parks also give us insight into places that are an important part of our national heritage, such as battlefields, or landmarks, like the Statue of Liberty.
There was a time in America when protecting our heritage through preserving open space was thought to be a civic duty. Alas, that is no longer considered a responsibility by recent Congresses. Obama has used the Antiquities Act as a way around the stasis in Washington, creating several national monuments.
The most recent is the Katahdin Woods and Waters National Monument in northern Maine. There have been calls for a national park in northern Maine for a very long time, but the lack of federally controlled land and the hostility of local residents who believe the timber industry is going to make a comeback, made it impossible to get a park designation. But Roxane Quimby, founder of Burt's Bees, gave almost 90,000 acres of pristine land to the government to help make something happen.
Opinions in Maine were mixed. There are more than a few folks who want the land to remain available to the paper mills, should the paper industry ever return to Maine. Republican Gov. Paul LePage denounced Quimby's donation:
That's one way to get out of paying taxes to the state of Maine…It's also an ego play for Roxanne Quimby and Senator Angus King. It's sad that rich, out-of-state liberals can team up with President Obama to force a national monument on rural Mainers who do not want it.
Last time we checked Quimby and King were in-state liberals, and the land was given to America, not to Mr. Obama.
Of course, the NPS faces major problems on its 100th birthday. An NPR report indicated that the service is facing challenges like climate change, overcrowding, underfunding and relevancy. Regarding climate change, the parks are having to adapt to rapid changes as we saw in Glacier National Park, where most glaciers could be gone by 2030. The parks are trying to educate the public about climate change, despite continued hostility from Republicans who refuse to fund it.
Relevance is a big issue. Surveys show that the average park visitor is 41 years old and white, not the future of a young, diverse majority America that will be here about the same time as the glaciers disappear.
Finally, the number of sites managed by the NPS has grown from 35 in 1916 to 400 sites today. That has led to substantial deferred maintenance, and given that Congress is unlikely to come up with additional funding, the NPS is seeking corporate funding, and possibly sponsorship.
Imagine Yellowstone: brought to you by Coca-Cola…
This brings into question of the very meaning of the commons: If we sell sponsorships, who owns the Grand Canyon? Who decides how Glacier National Park should be managed?
But, in a world where the GOP won't agree to fund the parks, that's what you should expect.
On a happier note, here are photos taken on our final days in Banff National Park in Alberta, Canada. Here is Moraine Lake, a small, jewel-like glacier-fed lake, created by gigantic rock slide: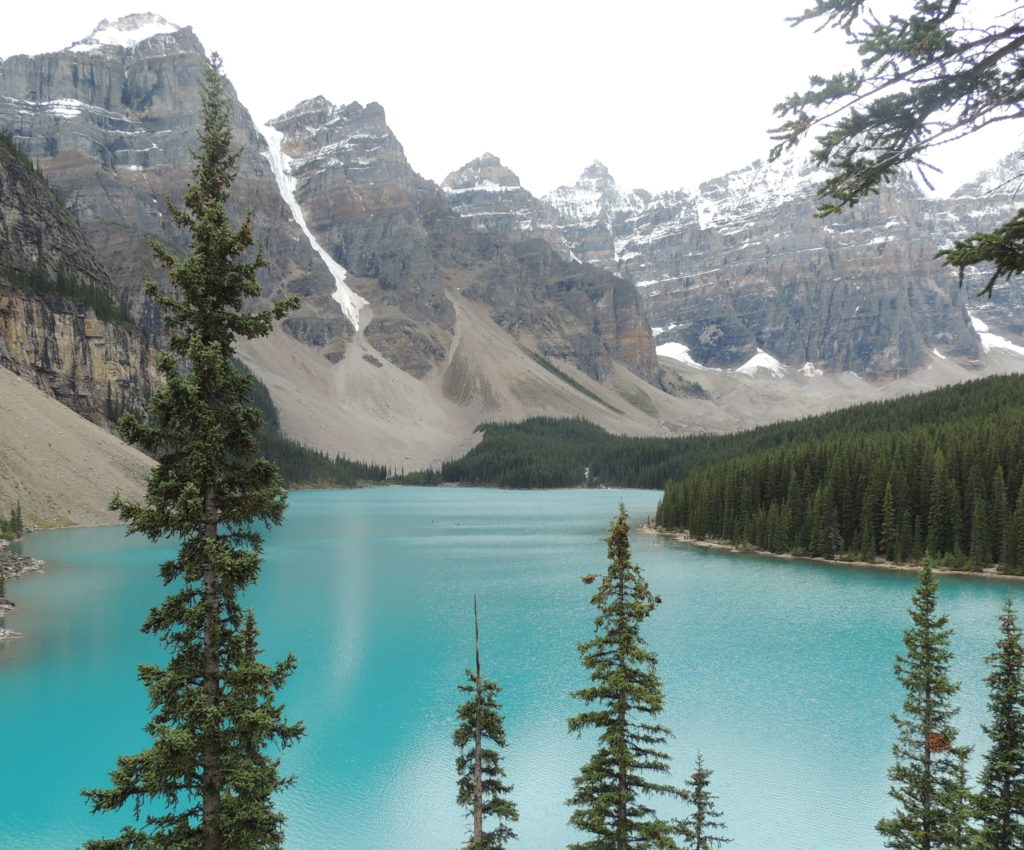 The distinctive color is from the sunlight reflecting off of dissolved particles of finely ground rock called "glacial flour". And here is a photo of Lake Louise in Banff: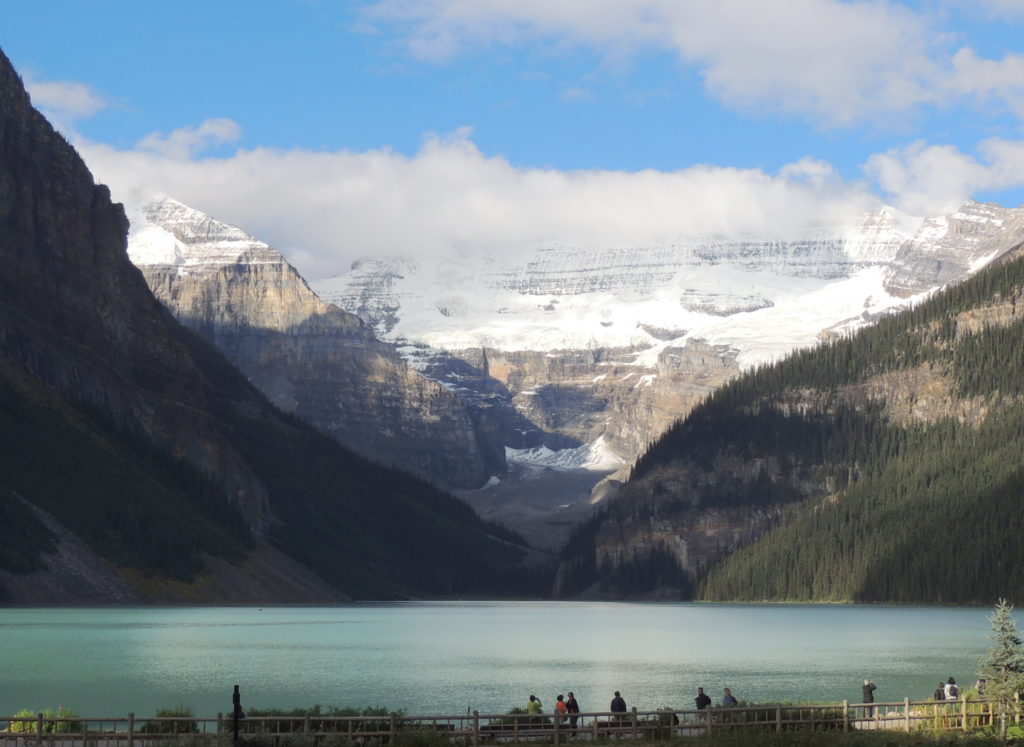 Lake Louise was named after Princess Louise Caroline Alberta (1848–1939), the fourth daughter of Queen Victoria. Apparently, the Province of Alberta is named after her as well. She never visited.
Here is a close-up of the Louise Glacier above the lake: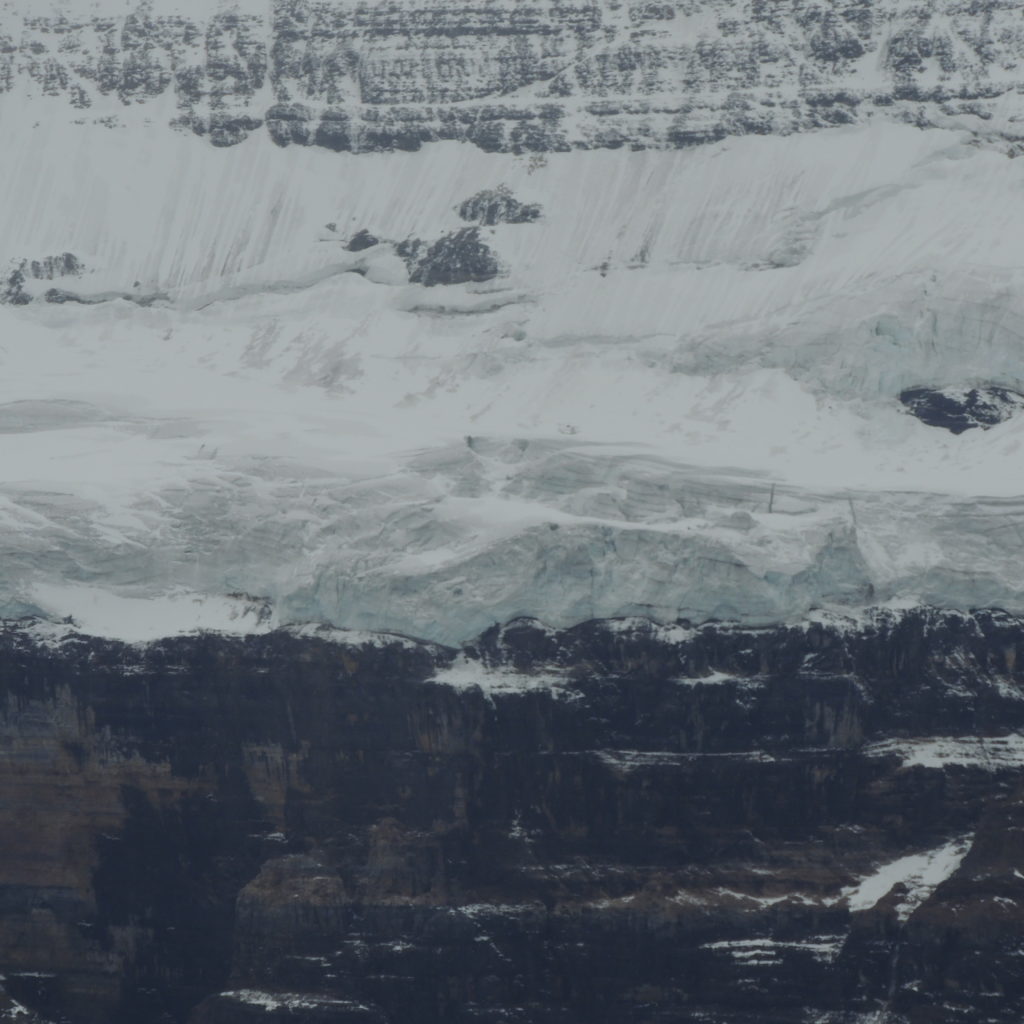 The glacier is 300' thick at the edge of the cliff wall.