The Daily Escape: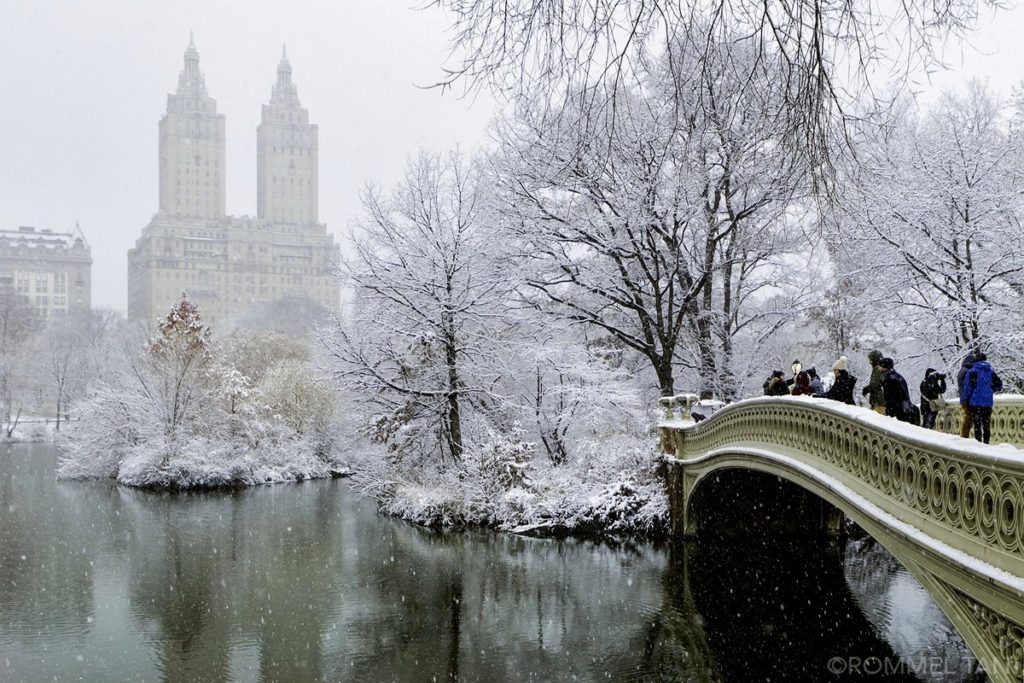 Central Park NYC, December 12th – 2017 photo by Rommel Tan
Long-time readers know that Wrongo has a very low opinion of Speaker of the House Paul Ryan (R-WI), who he considers an intellectual joker. He is often given a pass by the main stream media, who suggest that he is a thoughtful and principled Republican. But once again, he looked like a partially-informed hack on Thursday when he said that Americans need to have more babies or risk a collapse of Medicare and Social Security.
His concern is about the declining US birth rate. The Boston Globe reports that:
Ten years ago, the typical American woman had about 2.1 children. Today, it is about 1.77, representing a collapse in fertility on par with the declines in other countries that yielded Japan's rapidly graying population in the 1990s, or Canada's massive present-day demand for immigrants.
From Ryan's news conference: (parenthesis by Wrongo)
People — this is going to be the new economic challenge for America. People…I did my part, (Ryan has three kids) but we need to have higher birth rates in this country. Meaning, baby boomers are retiring, and we have fewer people following them in the work force…We have something like a 90% increase in the retirement population in America, but only a 19% increase in the working population in America…
It is true that birth rates in the US have declined, but that's not necessarily bad news. For example, birth rates for teenagers hit a record low last year. Also, Wrongo recently described McKinsey's report on jobs lost to automation that showed 75 million jobs are at risk in the US by 2030.
Perhaps we already have too many workers for the jobs revolution that is occurring all around us.
And there's an obvious solution to the problem that Ryan ignores: Allowing more immigrants into the country, either to fill the jobs being vacated by retiring baby boomers, or as necessary to meet tomorrow's job requirements. But Ryan shows that he's all in with Trump's hard line anti-immigration positions.
Should American women become brood mares? This isn't a new concept. The fear of being outnumbered by racial and ethnic minorities is the driving force behind today's alt-right, and the view was around in earlier white nationalist movements. HuffPo interviewed Kelly J. Baker, author of "Gospel According to the Klan". Baker says that the need to ensure that white women were having more white babies was a key part of the Ku Klux Klan's platform during its resurgence in the 1920s: (emphasis by Wrongo)
Baker said that the 1920s Klan was "nervous" about the possibility of widespread birth control for white women…To push back against the rising availability of effective birth control, the Klan told white women that having as many white children as possible is your job and it matters for your family and your race and for America.
And now, Ryan makes this a mainstream GOP idea. For all of the political empowerment of women in today's headlines, the Ryan argument lands in the same place as today's alt-right, and yesterday's KKK.
Ryan and the GOP want to see more babies, but they won't support young kids with health insurance through the Children's Health Insurance Program (CHIP). Quartz reports that next month, 600,000 American children will lose their CHIP coverage. CHIP has been instrumental in ensuring health care coverage of children in US families that aren't poor enough to qualify for Medicaid, but cannot afford any other form of insurance.
Republicans talk a lot about the cost of healthcare. The cost of not providing healthcare to children in an America with failing schools is impossible to calculate. It is very high, it lasts lifetimes and possibly, generations.
Yet, Ryan is saying that American women need to have more babies to Make America Great Again.
And we know that he's asking for more white babies.
OK, it's Saturday, and we need a break from toxic politics, and maybe from obsessing about shopping for gifts. Hanukkah began this week, so Wrongo looked for a soothing piece of music that was inspired by the celebration of the Festival of Lights. Here is "Hanukkah Overture for String Orchestra and Clarinet" by Adam Shugar.
If you look at the YouTube video, you will see that it has just 5,000 views. It should have many more. You should watch it because the music is good, and unlike most orchestral pieces, this string orchestra performs while standing. The video is shot from a high angle, and looking down allows you to see them all as they play together, almost like a choreographed dance. Here is "Hanukkah Overture for String Orchestra and Clarinet" played by the Orchestre Nouvelle Génération under the direction of Airat Ichmouratov, with Mark Simons on clarinet:
Those who read the Wrongologist in email can view the video here.