The Daily Escape: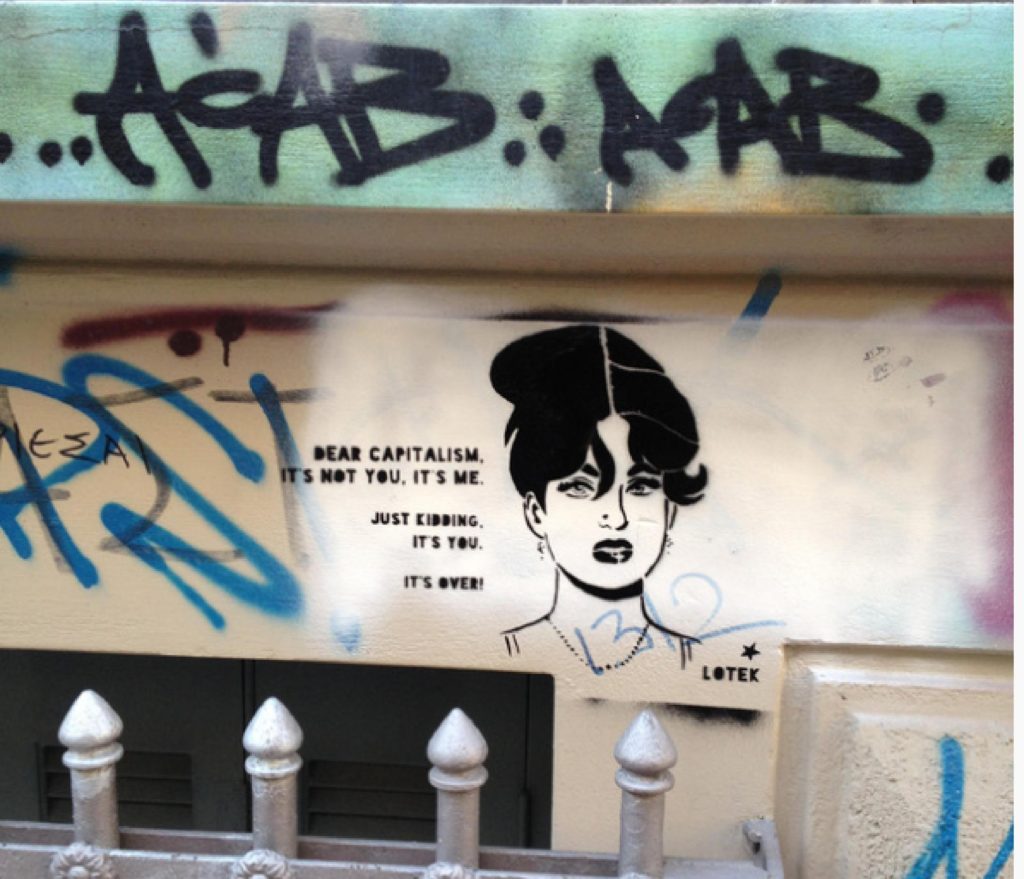 Graffiti in Greece by Lotek
The NYT reported that Rep. Tom Emmer (R-MN), chairman of the National Republican Congressional Committee, said: (brackets by Wrongo)
"Socialism is the greatest vulnerability by far that the House Democrats have…He added that he had also instructed his team to spotlight "all the [Dems] extreme wild ideas on a daily basis, on an hourly basis if it's available."
As we said yesterday, most Democrats are not socialists. They are for reform of capitalism. The problem is that our economic system is broken; it does not meet the needs of the vast majority of our people.
Capitalism has metastasized into a financialized cancer. Its growth-at-any-cost, profit-over-purpose ideology has wreaked havoc with the lives of millions of people. From Forbes:
"One example: For more than 400 years, 12.5 million Africans were kidnapped, enslaved and sold to build wealth and power largely for white men in the US, Europe and South America. The first enslaved Africans were shipped directly to the Americas in 1518, one year after Martin Luther nailed his 95 Theses to the door of Castle Church. The centrality and largely unconstrained profit motive in capitalism has been with us since the beginning."
Today, corporations track our every movement. Algorithms manipulate us to buy things, or to vote certain ways. We've put outsized power into the hands of corporations. We have to ask: What do we need from capitalism in the 21st Century? Is it more of the same, or something different?
Capitalist Reform is about re-imagining the purpose of business and redefining its success. The doctrine of shareholder primacy must be the first to go. It needs to be recognized as a form of oppression of human nature since it doesn't value our humanity.
According to a 2019 Politico/Morning Consult survey, 76% of registered voters want the wealthiest Americans to pay more. Politico also notes that a recent poll from Fox News shows that 70% of Americans supporting increased taxes for those earning more than $10 million, and 54% of Republicans also supported it. People are contemplating not just piecemeal tax increases, but a wholesale reversal of the Reagan-era shift in tax policy. The Economist reported that in 2016, more than half of young Americans no longer support capitalism.
There is an urgent need to push back against the widening economic inequality in the US. Taxing the rich is an easy answer, because so few of us are rich.
But, step one should be increasing corporate income taxes. Corporations' share of total taxes paid has decreased to about 9% of total US tax revenue in 2017, from about 33% in 1952. How many stories like Amazon's failure to pay anything in taxes on $11 billion in profits should it take to begin the task of closing corporate tax loopholes and increasing corporate income taxes?
Step two is to break up corporate concentrations. Wrongo addressed this here. The primary issue with corporate concentration is that it drives up prices. The fewer sellers, the fewer choices consumers have for goods and services, and thus, there is little pressure for big competitors to hold prices down.
Step three is to help workers. The share of profits that goes to workers must increase. This shouldn't punish capitalists. Higher wages for workers means more business for American companies.
We were founded on republicanism as a public virtue: The Constitution implies that a citizen is duty-bound to abandon self-interest when it conflicted with the General Welfare. Capitalism has usurped republicanism by insisting that abrogation of self-interest violates the doctrine of "survival of the fittest," and it's also an attack on individual liberty.
We need to revive the understanding of public virtue. So, some form of "mixed economy" is in our future. It's obvious to all except right wing ideologues that socialized medical insurance is in our future. But it is doubtful that a majority want to socialize production and distribution of America's products and companies.
The task for Congress and the next president is to figure out what activities and/or economic sectors are best guided by tax and economic policy, and which are best left to "market forces".
We're a country where vast wealth is rewarded with tax cuts, loopholes, and endless ways to ensure that corporate dollars earn even more dollars. While average people are bankrupted because of a health crisis, and we value semi-skilled labor at $7.25 an hour.
Today's capitalism is anti-democratic. General welfare and public virtue derive from a desire to improve the human condition. That needs to be the goal of political action to reform capitalism, and it needs to be hammered home again and again.