The Daily Escape: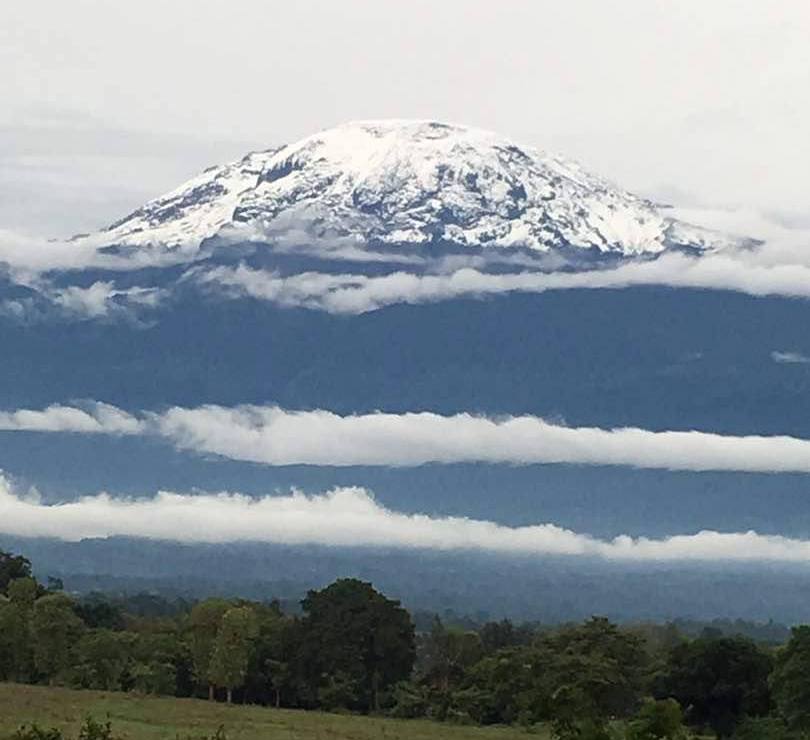 Mt Kilimanjaro – March 2018 photo by Peter Madonia
The #enough movement is about school kids protesting school violence. America watched this week as thousands of high school kids left their classrooms. Some wanted their government to do more to end gun violence, some simply wanted to show solidarity with 17 dead Florida kids.
These children may not be able to vote yet, but they're learning how to make themselves heard. Let's hope they grow up and vote, because we are living in a country where many, including most Republicans in Congress, think that universal health care is tyranny, but dead school children are part of the cost of freedom.
They think that access to medical treatment is a privilege you earn based on what's in your wallet. Meanwhile, they defend the right of virtually anyone over 18 to own an AR-15.
And in New Milford, here in Litchfield County CT, there was a big dust-up over the town's walk out. A group of parents hired an attorney to tell the school district that they were not happy that the kids got to participate in the national student walkout. Their lawyer wrote to the school district, saying:
My clients have asked me to notify you that this event violates state law, on the basis that state and local public funds are being used improperly to advocate for a political issue and to influence how voters will vote. Because it violates state law, we demand that the New Milford Public School District's Superintendent and Board of Education immediately cancel the event, and rescind any association or prior involvement in it.
Since the event is over, it's doubtful that it can be canceled. They also emailed Breitbart: (editing and brackets by Wrongo)
…the parents – who wish to remain anonymous – argue [that] the decision involves issues concerning adherence to law and policy, the manipulation of minors, the misuse of tax dollars, and indoctrination and political activism during school hours.
These parents think their kids are being manipulated. They surely must realize how difficult it is to manipulate one teenager, much less to simultaneously manipulate hundreds of thousands of them all across America.
George Soros just isn't that powerful.
The #enough movement is somewhat reminiscent of the Vietnam-era marches, which included high school and college kids spontaneously standing in public places protesting something that was a legitimate threat to their physical safety. The primary concern of students back then was being killed.
It is also the primary concern of these kids today.
Back in New Milford, solidly Trump country, a few anonymous parents obviously want to micromanage their kids' experiences and to politicize them. Here is a Facebook page quote by a student at NM High School:
Any student who wanted to go to the gym did, and those who chose not to participate were not forced to. A few students gave speeches, one of which contained a list of the names of the victims of the Parkland shooting. With each name a bell was rung and a moment of silence was given. A memorial for the innocent lives that were lost. The other speeches focused on being positive and spreading kindness; one given from a student who used to live in Parkland and who was very personally affected by this tragedy. Students and teachers alike listened and felt for the losses. It was a powerful and beautiful movement for all who watched. There was NO mention of guns in any way.
These kids didn't leave the building! But, despite knowing this, these anonymous parents hired a lawyer to intimidate the school district, and politicize the intentions of high school kids. The parents then involved Breitbart, a right wing rag. They wanted to highjack the message of these kids, turning it into yet another right wing, Second Amendment moment.
As Paul Simon said: "A man hears what he wants to hear, and disregards the rest".
This really makes Wrongo feel like we all need a soothing experience. To help with that, Wrongo suggests brewing a cup of Al-Durrar Single Farmer Lot coffee from Yemen, ($45/4 oz.) imported and roasted by Port of Mokha coffee. Wrongo heard about this on the PBS News Hour. It is a very interesting story.
Now, take your cup, and settle into your most comfortable chair to listen to "Sicilian Blue" by Hiromi Uehara, a Japanese jazz composer and pianist. Her work is a perfect blend of emotion and control. Here, she is performing live at the Jazz in Marciac (France) Festival in August, 2010:
Those who read the Wrongologist in email can view the video here.