The Daily Escape: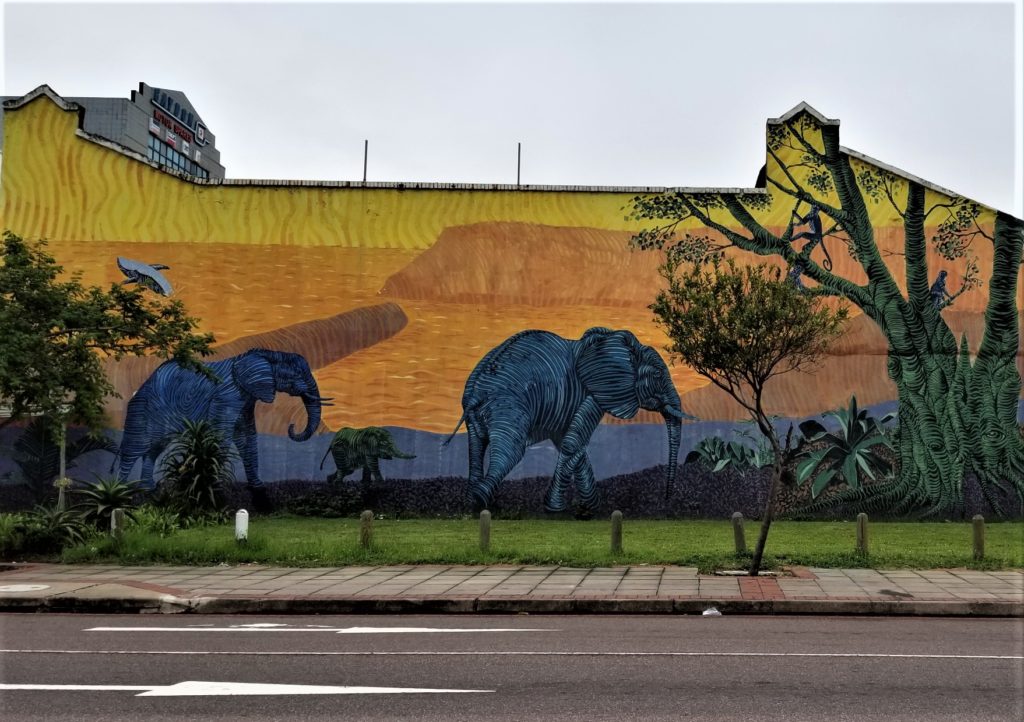 Mural in the Valley of a Thousand Hills, near Durban, South Africa – April 2018 photo by Ottho Heldring
Since today is Friday the 13th, let's talk about Donald Trump's confusing strategy in Syria, which could turn out to be the unluckiest strategy of all for America.
Trump got elected in part because he was vocally against foreign quagmires. He was against involvement in Syria as a candidate, and as recently as two weeks ago, said he wanted to get out of Syria as fast as possible.
Now, he's tweeting that the Syrian government has again used chemical weapons on its people. The gas attack led to what so far is a "war of words" between the US and Russia both at the UN, and in the Twittersphere. For his part, Trump tweeted that "missiles will be coming" at Syria. "Get ready Russia," he taunted, "because they will be coming, nice and new and 'smart.'"
We know that on April 7, antigovernment groups in the town of Douma in Syria claimed that dozens of people were killed in a chemical weapons attack. The rebels blamed the government, while the government denied responsibility.
Douma was the last battleground in Eastern Ghouta. It had been an enclave for militants fighting against the Syrian government. Douma was controlled by the Jaysh al-Islam, a jihadi group that was accused of using chemical weapons in Aleppo in 2016. Jaysh al-Islam said that the Syrian government carried out the chemical weapons attack that killed more than 70 people.
The Organization for the Prohibition of Chemical Weapons, (OPCW), sent a special fact-finding mission to Douma to verify reports of the alleged use of chemical weapons. Although they are now on the ground in Douma, the OPCW mission was not what the UN or the US wanted. They called for an independent investigation. That US resolution by Nikki Haley was vetoed by Russia with China abstaining. A resolution calling for OPCW to investigate was offered by Russia. It failed as well.
Now, we'll see what the OPCW comes up with. But, we need to be open to a finding that it wasn't gas. We need to be open to a finding that Assad didn't do it. In fact, Secretary of Defense, General Mattis, said on Thursday that:
I believe there was a chemical attack and we are looking for the actual evidence….As each day goes by — as you know, it is a non-persistent gas — so it becomes more and more difficult to confirm it…
The Secretary of Defense can't confirm it's gas, much less who did it, but we're gonna let the missiles fly?
Why isn't anyone in the mainstream media asking, "Who did this"? Why aren't they asking why Assad would do this when he's just about to succeed after a six-year fight against those who wanted him out of power?
Why isn't anyone asking why this occurred just after Trump said on April 3rd that he wanted to get out of Syria? Wouldn't it be wise to see what the OPCW finds in Ghouta first before going all gung-ho with missiles and air attacks?
From Andrew Bacevich:
The purpose of all wars, is peace. So observed St. Augustine early in the first millennium A.D….but his crisply formulated aphorism just might require a bit of updating….I might suggest the following amendment to Augustine's dictum: Any war failing to yield peace is purposeless and, if purposeless, both wrong and stupid.
We are in a purposeless fight in Syria. There is no threat to us, regardless of the outcome of the Syrian civil war. And the selective outrage about kids dying in Syria is mind boggling. There is no discussion about the dead children of Yemen, dying in a war by our ally, Saudi Arabia, with our active support.
Here's where we are: Either Bomber Bolton will get another President to go hip deep into another Middle East war, you know, the kind of war where we'll again be greeted as liberators.
Or, we can have the guts to say "enough" in Syria.
Trump should take a stand now on what remains of his principles. Engaging in possible war with Russia and Iran over Syria isn't going to save our democracy, or his presidency. Is he man enough to say "enough"?
Wrongo is convinced that the time is right for a true anti-war candidate. That space was ceded to Trump in 2016, but the flyover states may be willing to vote that way again. They're the ones whose kids are being sent off to die in the wars organized by the defense contractors, neocons and DC insiders, wars that we never win.
And then, their kids come home with PTSD. They move into crappy jobs, and some are lost to drugs and death caused by despair.
Who will step up and say "enough" in Syria?