The Daily Escape: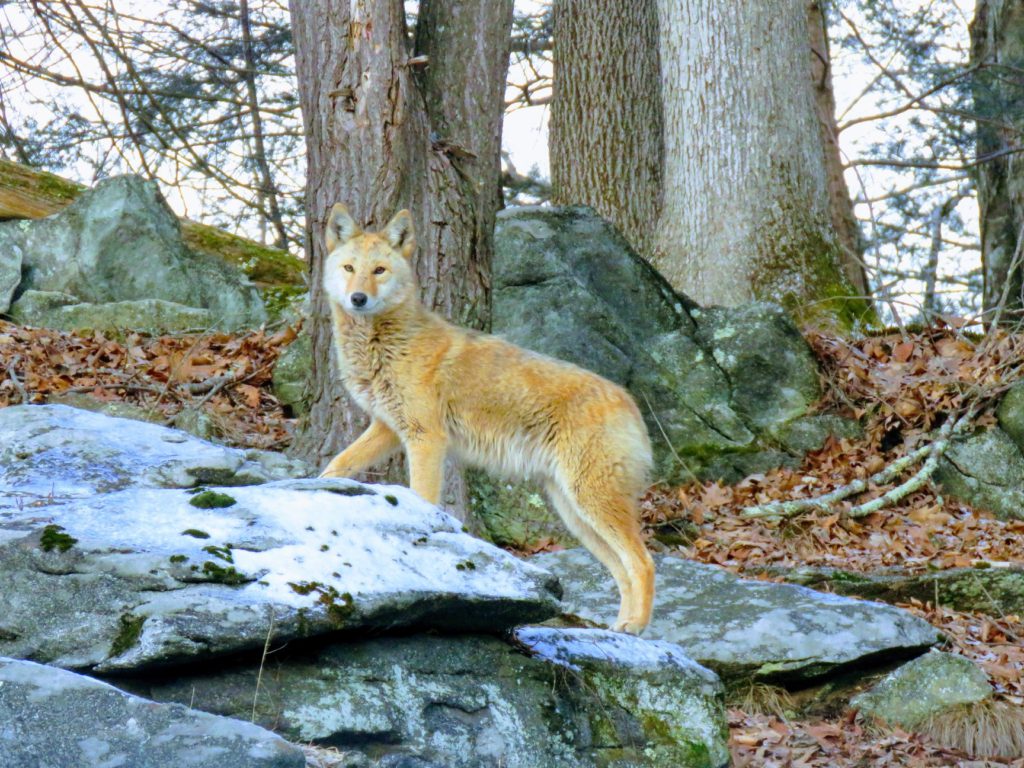 Coyote in Litchfield County CT – February 2019 photo by Sharon Shea
For more than 30 years, the Intermediate-Range Nuclear Forces Treaty (INF) has been one of the cornerstones of the international security system. But, on February 1st, Trump announced that the US would suspend its obligations under the INF Treaty. Shortly thereafter, Russia's President Putin announced that Russia will also officially suspend its treaty obligations.
Trump swings another wrecking ball! Defense One reported that Trump said that the US:
"Will move forward with developing…its own military response options and will work with NATO members and other allies to deny Russia any military advantage from its unlawful conduct."
This means that Trump will start the development, production and deployment of formerly INF-banned weapons.
Until the treaty took effect in 1988, the US had hundreds of nuclear-tipped ground-launched cruise missiles, or GCLMs all over Europe. Today, all cruise missiles are either air or sea-launched. New GCLMs are likely to be returning soon. Contenders include converting the sea-launched Tomahawk cruise missile, and the air-launched Joint Air-to-Surface Standoff Missile, or JASSM.
Walking away from the INF Treaty opens the door to both sides building land-based nuclear capable missiles with a range beyond 300 miles.
There are two things to think about: Cost, and Strategic necessity. Kingston Reif, a policy director at the Arms Control Association, said the cost of the new missile systems would be much higher than the $6 billion or so it cost in the 1980s.
On the subject of necessity, he says:
"The United States can already…threaten the same Russian targets that new ground-launched missiles prohibited by INF Treaty would….In addition, no European nation has agreed to host such a missile, which could take years to develop. And even if one in Eastern Europe did, such a deployment would be a significant source of division within the alliance—one Russia would be eager to try and exploit—be hugely provocative, and put missiles in a place where they would be especially vulnerable to Russian preemption…"
The downside to the US withdrawing from the treaty is that we currently have no strategy to prevent Russia from building and fielding even more and new intermediate-range missiles.
Since Russia already announced it will now build these new missiles, our NATO allies in Europe have decisions to make. They will have to pursue options to defend themselves, to mitigate the damage done by the collapse of the treaty.
We're entering a new Cold War with Russia.
Some believe that the INF treaty is obsolete, because many nations are developing effective missiles and launching capabilities that will be outside the limitations of the INF. Since we all will continue to develop these technologies, maybe the best we can hope for is to negotiate new treaties that address this increasing lethality down the road.
OTOH, Trump and his neocons are doing everything they can to encircle Russia with missile bases while claiming the moral high ground. We should expect them to utilize Poland, the Baltic states, and possibly Ukraine (if they can get away with it), as forward missile bases.
They figure that since geography favors them, why negotiate if you can win? Russia already called our bluff. For this strategy to work, the US must threaten Russia from Europe while simultaneously putting Europe under our new missile thumb. It might work, but there are many moving parts.
Republicans of course supported Trump, cheering about the breakup of a treaty signed by Ronald Reagan. When Wrongo grew up, the threat of nuclear annihilation was real. We drilled for it in school. He then ran a nuclear missile unit in Europe at the height of the Cold War. These were formative experiences that implied very dangerous consequences.
And think about our domestic politics: If someone were to run in 2020 as anti-Cold War II, they would have to say we need to work with the Russians to find a peaceful way out of this mess. Trump will then run to their right, saying Russia must be stopped.
Scared yet? A presidency based on disruption will do that to you.
Time for your Saturday Soother. Try to unplug from all the data that are streaming into your life for a few minutes. Start by brewing up a strong cuppa Hula Daddy Kona Coffee ($45.95/half pound) from the Big Island of Hawaii. You can see their plantation here.
Now settle back and listen to Abba's "The Winner Takes It All" performed as a guitar instrumental by Gabriella Quevedo:
For those who may have forgotten the lyric, it includes this:
The winner takes all
It's the thrill of one more kill
The last one to fall
Will never sacrifice their will
Think there will be winners in the new Cold War?
Those who read the Wrongologist in email can view the video here.