The Daily Escape: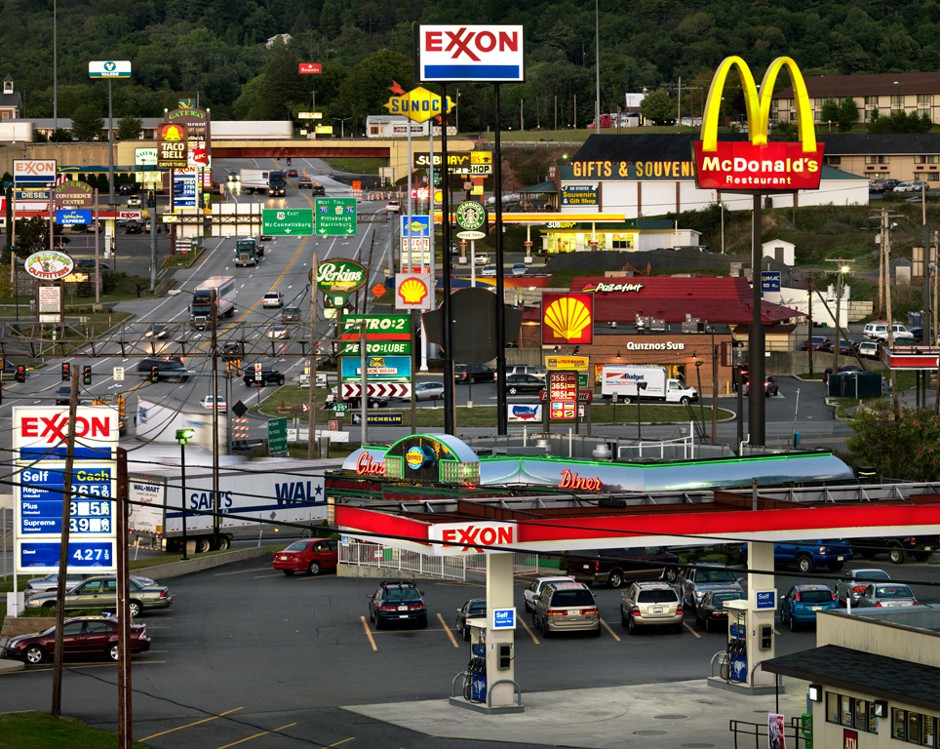 Breezewood, PA – 2008 photo by Edward Burtynsky. Each year, 3.5 million passenger vehicles and 1.5 million trucks drive the half-mile Breezewood strip on Route 30. That's because a law in the 1950s prohibited spending federal funds to connect a free road to a toll road. So, highway planners designed an interchange that routes drivers onto Route 30 for a half-mile.
An interesting article from Market Watch shows how nearly all job growth is in big cities, while rural America is being left behind:
"Since the economy began adding jobs after the Great Recession nine years ago, about 21.5 million jobs have been created in the United States, the second-best stretch of hiring in the nation's history, second only to the 1990s. But….Most of the new jobs have been located in a just a few dozen large and dynamic cities, leaving slower-growing cities, small towns and rural areas — where about half of Americans live — far behind."
MarketWatch cites a July 2019 study by McKinsey forecasting that 25 cities that are home to about 30% of Americans will capture about 60% of the job growth between 2017 and 2030, just as they did between 2007 and 2017. In typical McKinsey fashion, they break cities and towns into many categories. Please read the report for full details. Here are their top-line findings about where the largest growth is happening:
Twelve mega-cities (and their extended suburbs) top the list: Atlanta, Boston, Chicago, Dallas, Houston, Los Angeles, Miami, New York, Philadelphia, Phoenix, San Francisco and Washington.
Another 13 are high-growth hubs in or around smaller cities: Austin, Charlotte, Denver, Las Vegas, Minneapolis, Nashville, Orlando, Portland (Ore.), Raleigh, San Antonio, San Jose, Seattle, and Tampa.
Smaller, fast-growing cities and a few privileged rural counties will also add jobs, while vast swaths of the South, Midwest and Plains will lose jobs.
The New York metro area, home to 20 million people, added more jobs over the past year than did all of America's small towns and rural areas, with a population of 46 million people, combined.
McKinsey's forecast reinforces concerns about persistent economic inequality in America. Inclusive growth is a must, or it is likely that our society will fall apart. The problem: No one, and certainly not Republicans, have a magic wand that will bring back jobs to rural and small-town America.
Anyone who's been paying attention knows that job growth is mostly occurring in places that vote for Democrats, while the stagnation is mostly in places that vote for Republicans. In 2016, Trump was smart to tailor a pitch to those parts of America, but their situations haven't improved since his election.
And the divide is getting larger. Over the past year, only 12% of 389 metro areas had any significant job growth, according to an analysis of Bureau of Labor Statistics data by Aaron Sojourner, a former White House economist, now an associate professor at the University of Minnesota: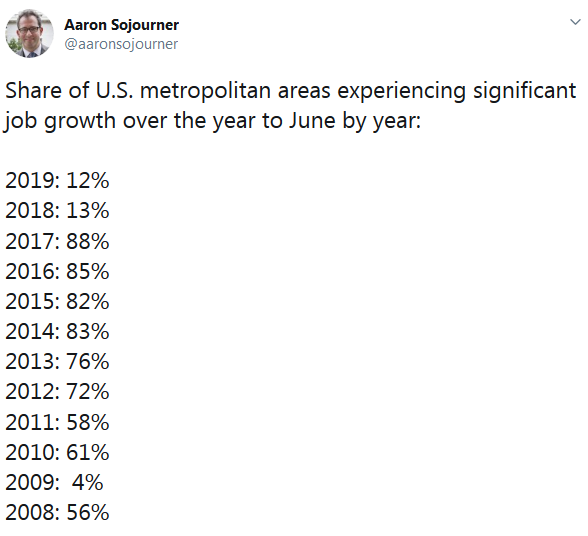 So, after 17 years of significant and broadly-spread growth, fewer towns and cities are now doing so well. And, of the 47 metros that gained significant numbers of jobs over the past year, 21 were on McKinsey's top 25 list.
Meanwhile, the regional jobs data from the BLS shows that non-metropolitan areas, which account for 18% of jobs, had just 5% of job growth over the past year.
OTOH, income inequality is greatest in those cities with the highest jobs growth. But, we can't write off one quarter of the US population simply because they live in low-growth areas. And politically, it's essential. Rural America is overrepresented politically — we can't ignore them.
But, what to do? Sanders and Warren have addressed this by trying to raise tax revenues from corporations, and funding free college. They along with others, believe in some form of Medicare-for-all, which could help address the fact that rural America is older, sicker, and poorer than ever before.
Yang proposes a universal basic income of $1,000/month for everyone.
Trump proposes tax cuts for the wealthy, tariffs and weakened environmental regulations, but despite all three, the situation has gotten worse since his election.
McKinsey suggests that communities that are being left behind ought to try almost everything: improved transportation to get residents to jobs, rural broadband, and lifelong job training.
Building consensus about how to address job growth and income inequality is the key to America's future. This is what the 2020 presidential election should be about.