The Daily Escape: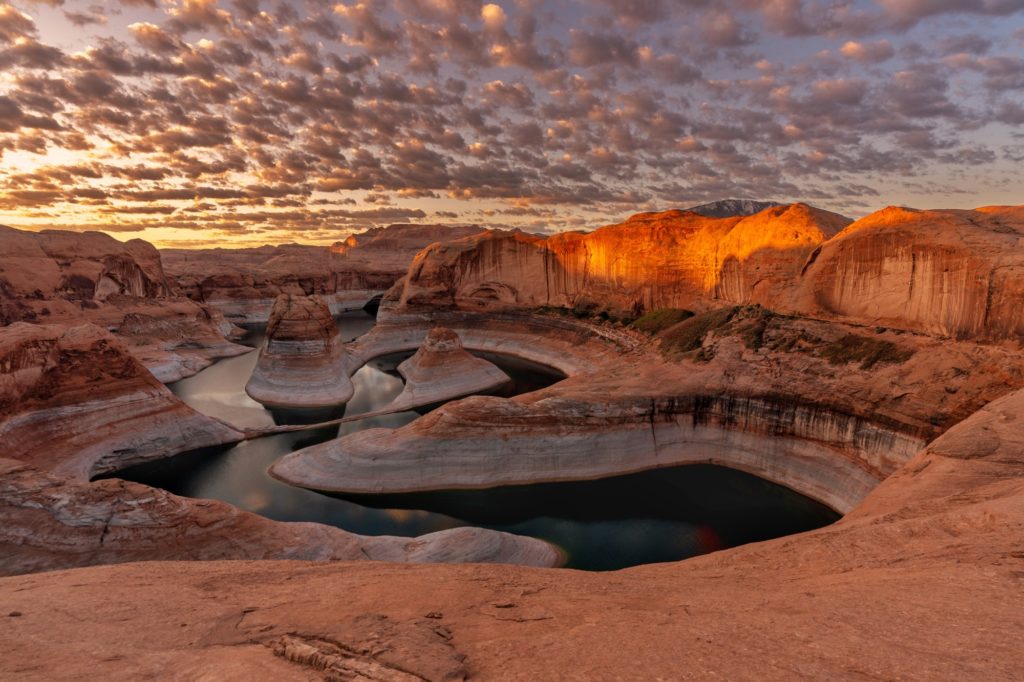 Sunrise, Reflection Canyon, Escalante arm of Lake Powell, UT – 2019 photo by Aaryeh95
(Reminding readers that this is the last column until Sunday when cartoons will be back on the menu. We are attending our second college graduation of the spring.)
The Week reports that President Trump is having second thoughts about sending troops to Venezuela. He complained to aides and advisers that:
"he was misled about how easy it would be to replace the socialist strongman, President Nicolás Maduro, with opposition leader Juan Guaidó, The Washington Post reports. 'The president's dissatisfaction has crystallized around National Security Adviser John Bolton and what Trump has groused is an interventionist stance at odds with his view that the United States should stay out of foreign quagmires.'"
"He was misled about how easy it would be to replace the socialist strongman"! Who could've seen that coming? Just about everyone but Trump, and the neocons around Trump. The Neocons are batting 1.000, again proving themselves to be miserable failures at geopolitics. They continue to mess up geopolitical foreplay on the way to their real goal: Regime change and war.
By listening to Bolton and Pompeo, Trump has placed Venezuela more directly in the hands of Russia. It seems that Trump's 90-minute phone call last Friday with Vladimir Putin was meant to talk Trump out of regime change in Venezuela. A secondary benefit for Putin may turn out to be that Trump handed Moscow a permanent Atlantic military presence in South America.
What's the upshot? It looks like Maduro was pushed into Putin's arms. Maybe Trump and Putin can cut a deal to sort this out without a crisis.
It looks possible that Maduro got an offer from a smarter, stronger player in the geopolitical game: Vladimir Putin. Republicans are bound to be disappointed. Blowing up Maduro's regime was high on the Bolton and Republicans's list.
Of course, regime change is always on their list. They want regime change in North Korea. In Syria. In Venezuela. And in Iran. It would be the perfect distraction from all the talk about Mueller and impeachment. They think war is a great campaign issue for 2020.
Now, Bolton and Pompeo have shifted their focus to Iran.
On Sunday, the National Security Council announced that we were sending another carrier strike group and a bomber task force to the Persian Gulf in response to "troubling and escalatory" warnings from Iran. Bolton discussed the intelligence, saying that Iran appeared to be gearing up for war.
Help me. We all know that Russia is also more friendly with Tehran than we are. And Putin has already achieved near-total victory in Ukraine and Syria, and possibly has already bagged Venezuela. We were never going to be buddies with Iran, but will Tehran now move completely into Russia's orbit?
To date, it looks like the worst thing Donald Trump has done is to hire John Bolton as his National Security Advisor. Of course, Bolton's track record as a war-monger preceded him, so what's happening now was predictable. The Neocons, including Bolton, want a war with Iran, to remake the Middle East.
Their project to remake the ME saw America destroy Iraq and Afghanistan. It fueled American regime change aspirations in Syria. It brought about the destruction of Libya. It's also underway in Yemen.
What the Neocons are doing helps a new alliance to form. Its key members are China and Russia, but Iran is a part of it as well. The Chinese Belt and Road Initiative (B&R) is meant to create routes to Europe and a Chinese-led trade zone. It is meant to bypass sending ships through the straits of Malacca (which the US can shut down any time to strangle China's trade). It looks like the land parts of the B&R will move goods more quickly to Europe, but not as cheaply, as sea transport.
So the question is: Can Bolton talk Trump into war with Iran? Will Trump lead us into a fatal miscalculation? Trump is walking a tightrope without a net.
Even without a war, the US's continued abuse of its privileged position in the world payments system to sanction countries like Iran and Venezuela implies that China and Russia will develop an alternative payments system. It's inevitable.
It's only a matter of time before international payment alternatives become viable enough that major countries will simply ignore US sanctions.
The US looks to be the big loser in the geopolitical game of chicken that Trump is playing.