The Daily Escape: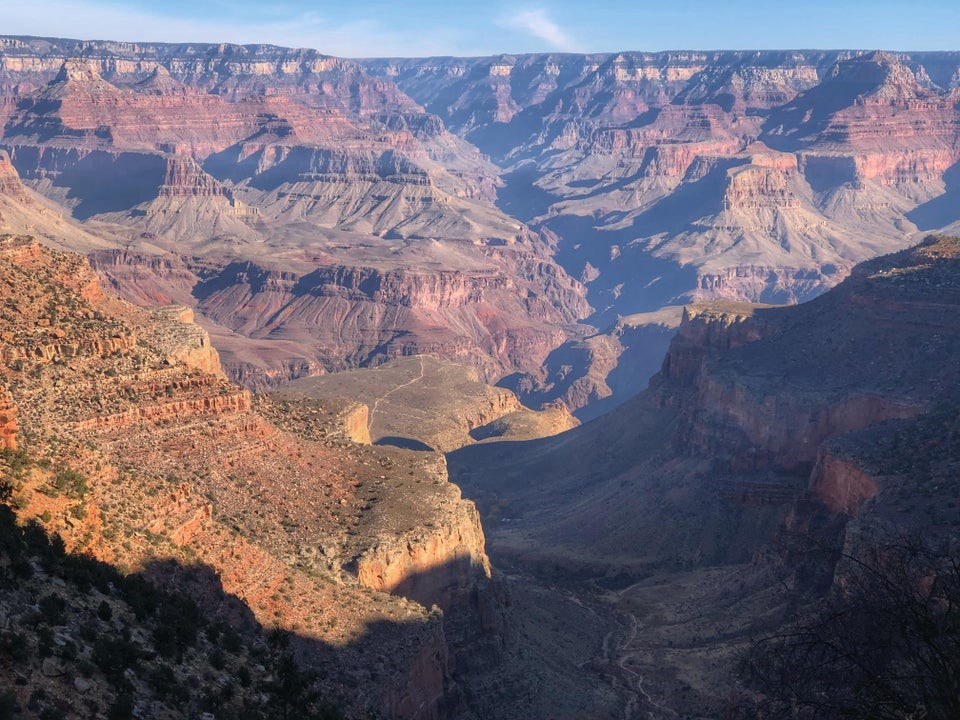 Bright Angel Trail, in the middle foreground, Grand Canyon NP – photo by glowrocks
The chickens are coming home to roost. Michael Flor was originally the longest-hospitalized COVID-19 patient. Somehow, he survived. He came close enough to death that a night-shift nurse held a phone to his ear while his wife and kids said their final goodbyes.
Today, he's recovering at home in West Seattle, WA. That's the good news. The bad news is that he just got the bill. From the Seattle Times:
"The total tab for his bout with the coronavirus:…$1,122,501.04, to be exact. All in one bill that's more like a book because it runs to 181 pages."
More from the Seattle Times:
"…the charge for his room in the intensive care unit was billed at $9,736 per day. Due to the contagious nature of the virus, the room was sealed and could only be entered by medical workers wearing plastic suits and headgear. For 42 days he was in this isolation chamber, for a total charged cost of $408,912.

He also was on a mechanical ventilator for 29 days, with the use of the machine billed at $2,835 per day, for a total of $82,215. About a quarter of the bill is drug costs."
Those charges don't include the two weeks of recuperating he did in a rehabilitation facility.
Since Flor has Medicare, it is unclear how much he will actually have to pay out of pocket. Further, since Congress set aside more than $100 billion to help hospitals and insurance companies defray the costs of the pandemic, it's possible that Mr. Flor may not have to pay even the out-of-pocket charges normally billed by his Medicare Advantage policy, but that remains to be seen.
The insurance industry has estimated treatment costs of COVID-19 could top $500 billion, so unless Congress steps up with more money, co-pays for COVID will soon become injurious.
One outcome of the pandemic may be that America takes a closer look at universal health insurance. There are many detractors in Congress, but the sticker shock that so many families will see from COVID-19 cases may restart the discussion. Medicare for all could work: A single payer with a set system of prices would be good for employers and employees alike.
It will be hard. Universal health insurance is such a tough problem to solve that only 31 out of 32 developed nations have managed to do it.
A second issue for today is the killing of Rayshard Brooks in Atlanta over the weekend. From the Atlanta Journal-Constitution:
"Officers were called to the restaurant after receiving a complaint about a man asleep in his vehicle, which forced other customers to go around his car to get their food at the window. The man, Atlanta resident Rayshard Brooks, was given a field sobriety test, which he reportedly failed…"
Brooks grabbed a cop's Taser. More:
"…surveillance footage from the Wendy's appeared to show Brooks turn toward the police and attempt to fire the Taser as he ran away. That's when the officer chasing Brooks pulled out his gun and shot him…"
Tasers are a form of de-escalation instead of using firearms. The Taser momentarily incapacitates, but ultimately doesn't threaten life. So shouldn't it follow that if a suspect steals a cop's Taser and threatens to use it, the cop can't just shoot him dead since he's being threatened by an ultimately harmless weapon?
The cops had his car, it's likely they knew where he lived. They could have picked him up at any time. Instead, they killed him. The police tried to do something, the suspect resisted, and in the heat of the moment, the cop escalated to show that he's in charge. It was a terrible reason to kill someone.
Time to wake up America! We have both out-of-control policing and out-of-control capitalism harming our society. To help you wake up, listen to Sly and the Family Stone's 1969 song, "Everyday People". This is Playing for Change again, along with Turnaround Arts students. Trust Wrongo and watch:
Sample Lyric:
Sometimes I'm right and I can be wrong
My own beliefs are in my song
The butcher, the banker, the drummer and then
Makes no difference what group I'm in
I am everyday people, yeah, yeah
And different strokes for different folks
And so on and so on and scooby dooby doo-bee
Ooh, sha sha
We got to live together
I am no better and neither are you
We are the same whatever we do
Of course there was racism back in 1968, but the musicians were preaching integration. Despite the racism back then, people were optimistic. Compare that to today.
Those who read the Wrongologist in email can view the video here.