The Daily Escape: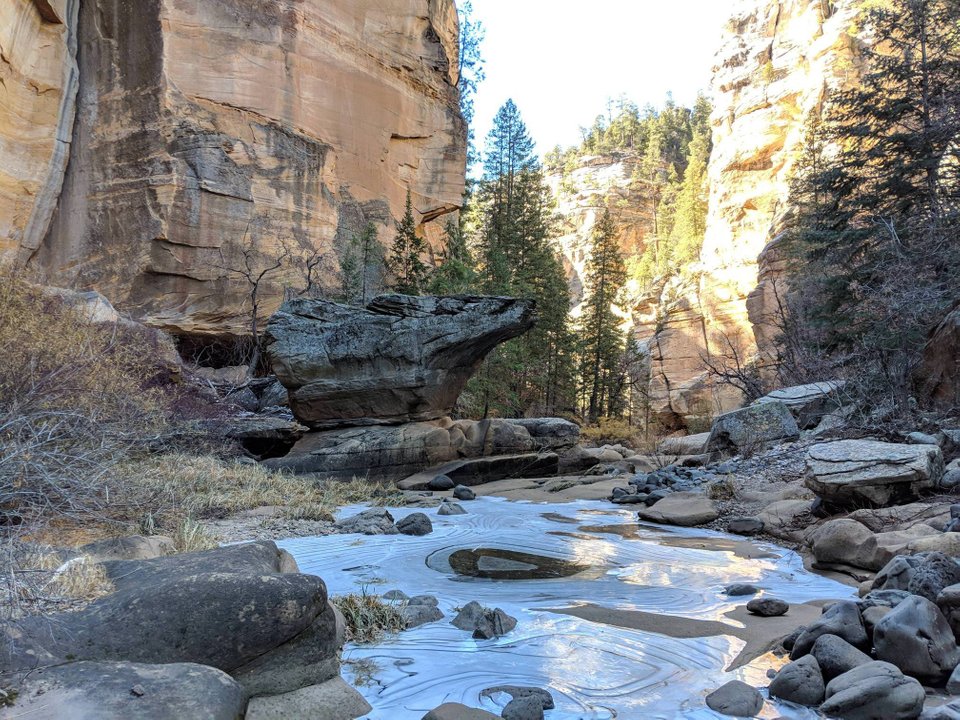 Frozen pond, Oak Creek Canyon, north of Sedona, AZ – photo by ballsagna2time
Yesterday, Wrongo posted a comment by Sarah Kendzior who said that the shutdown is a hostile restructuring of government by people who were happy to see the non-military portion of the government weakened. This sounds like an exaggeration until you read that earlier this month, Trump retweeted a Daily Caller article by a purported high-level of his administration, arguing that the work of most federal employees is worthless:
"We do not want most employees to return, because we are working better without them…As one of the senior officials working without a paycheck, a few words of advice for the president's next move at shuttered government agencies: lock the doors, sell the furniture, and cut them down."
Maybe, once again, we've underestimated Trump and his band of authoritarians.
And everyone can see how disconnected the administration is from working people, despite their protests of populism. On Thursday afternoon, Trump told reporters that grocery stores will "work along" with people who can't pay for food. Wrongo isn't sure what happens in your neighborhood, but around here, nobody runs a tab with Walmart, or Stop and Shop. Nobody is holding up the checkout line while the cashier marks a new amount on the shopper's tab with the store.
And also on Thursday, Commerce Secretary Wilbur Ross appeared on CNBC's "Squawk Box" to talk about the government shutdown. He apparently didn't understand why unpaid federal workers would be suffering, since they could just go to the bank and get a loan:
"The obligations that they would undertake, say a borrowing from a bank or a credit union, are in effect federally guaranteed. So the 30 days of pay that some people will be out, there's no real reason why they shouldn't be able to get a loan against it…"
Sure they can. And if they had a few bucks left over, they could go in together on a few tumbrels.
The fact that the administration and the GOP-controlled Senate have weaponized a government shutdown is all you need to know about their callousness and cynicism. It's morally repugnant to use people as pawns. But, as is clear from the quotes above, most of the Trump administration are elites who, for their entire lives, have used average people as pawns for financial gain.
There will never be a better reason to vote all of them out in 2020 than the heartless way they are reacting to the very real problems that they have created for millions of Americans in January 2019.
Ok, time to slow the burn, kick back and try as best we can to shut out all the noise echoing in our minds. It's time for your Saturday Soother.
Let's start by brewing a cup of Kenya Ruthaka Peaberry ($19/12oz.) from Sacramento's Temple Coffee Roasters. It apparently has a resonant finish with notes of dark chocolate and red currant, and undertones of crisp marjoram, if you're into that.
UPDATE: Apparently, Trump agreed late Friday to open the government for three weeks, without any Wall funding.
Now, settle back in your most comfy chair, and unplug from all screens (except Wrongo's) and in honor of the Speaker of the House, listen to the John Coltrane Quartet from 1962 doing "Nancy with the Laughing Face":
Those who read the Wrongologist in email can view the video here.