The Daily Escape: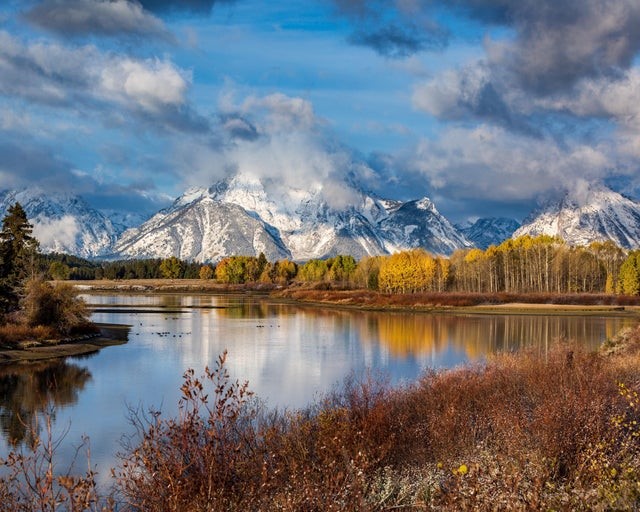 Early snow at Schwabacher Landing, Grand Teton NP, WY – October 2019 photo by travlonghorns
The shit show visited on America by Republican nihilists must end. Here are three of the latest examples.
First, Bloomberg reports that Trump says he won't allow federal aid for states facing budget deficits caused by the Coronavirus unless they take action against their sanctuary cities: (brackets by Wrongo)
"We would want certain things…as part of a deal with House Democrats to aid states, [Trump] he said at a White House event on Tuesday…including sanctuary city adjustments, because we have so many people in sanctuary cities."
Yes, Trump wants to hold Democratic states and cities hostage unless they end their sanctuary designations. He has previously tried to cut off their federal funding unless they change their pro-immigrant policies, and he thinks now he has some leverage.
Second, Mitch McConnell and industry lobbying groups want to make immunity from COVID-19 lawsuits a condition for state aid. In a Monday interview on Fox News Radio, McConnell said he considers liability protections for companies a non-negotiable demand for the next coronavirus stimulus legislation:
 "That's going to be my red line….Trial lawyers are sharpening their pencils to come after healthcare providers and businesses, arguing that somehow the decision they made with regard to reopening adversely affected the health of someone else."
McConnell is arguing that companies should have the right to be negligent, and suffer no consequences for negligence that kills their staff.
As some states begin opening their economies, lobbyists say retailers, manufacturers, restaurants and other businesses struggling to start back up need temporary limits on legal liability. The lobbyists want to give companies more protection against lawsuits by customers or employees who contract the virus and accuse the business of being the source of the infection.
Think about this: Workmen's compensation takes care of what might happen to an employee, and does so at ridiculously low rates, even for death benefits. So this means that the primary corporate liability issue is over employees who bring the virus home from work and infect family members. Under the new legislation, family members would be precluded from filing a suit against the employer.
What about corporate liability for retail customers? Would retailers be held harmless if people getting sick are traceable to their store? There is a tension between companies having confidence to reopen, and employees and customers having confidence that they will be protected from unsafe practices that raise their chance of infection.
Lobbyists and Republicans want permanent changes to the business liability laws, while Trump is looking at how they could create some of those shields either via regulation, or executive order. But McConnell wants permanent legislation. His leverage is to make it a part of the next stimulus package.
Finally, GOP governors are holding their own constituents hostage: return to work immediately with no protection from the virus, or lose your unemployment checks:
"If you're an employer and you offer to bring your employee back to work and they decide not to, that's a voluntary quit," Iowa Gov. Kim Reynolds (R) said Friday. "Therefore, they would not be eligible for the unemployment money."
The only exception for workers getting unemployment after not returning to work is if they are ill with the virus or taking care of a family member who has the disease. The situation is similar for workers in Texas, where Gov. Greg Abbott (R) on Monday gave the go-ahead for retail stores, restaurants, movie theaters and malls to reopen on Friday.
"According to the Texas Workforce Commission, to qualify for unemployment benefits in the state, a worker must be "willing and able to work all the days and hours required for the type of work you are seeking…..employees who choose not to return to work will become ineligible for unemployment benefits."
The only solution to these anti-worker policies is re-unionization of workers in nearly every industry, and these Republican efforts during the pandemic may energize that unionization.
Mitch wants to protect employers. Trump says the whole problem is China's fault.
Now they're teaming up to protect Smithfield, a Chinese company since 2013, to shield it from not protecting its American workforce. A positively Chinese idea!
At least there's no pretense that they're really just trying to increase employment.