A day off, with "American in Paris" on tap for tonight. But today was throwback Thursday, so Wrongo and Ms. Right visited old haunts from Wrongo's time in London with the global bank. A visit to Harrods was our first stop, where we saw this outrageous jacket: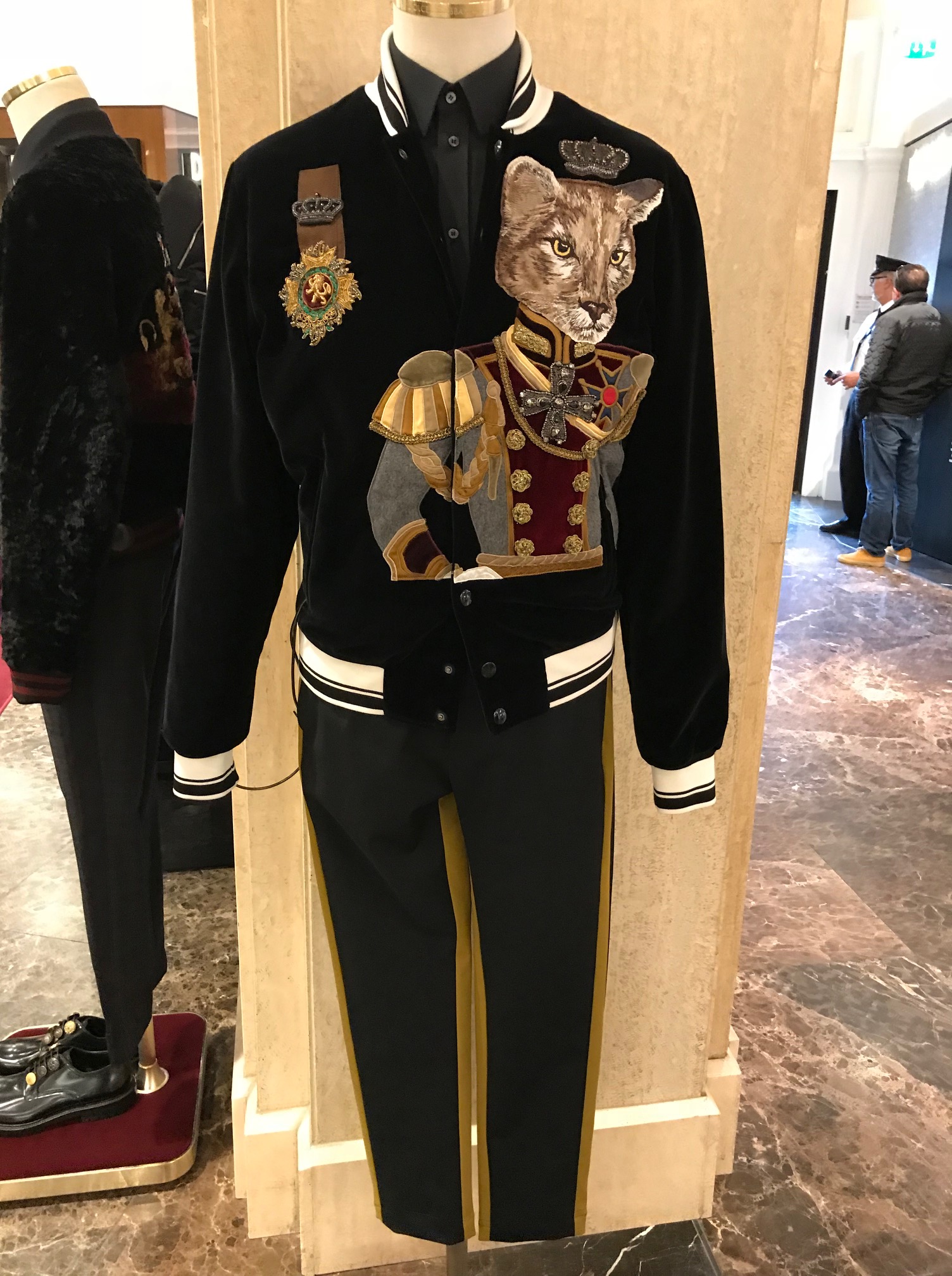 2017 photo by Wrongo
Wrongo asked a young Harrods employee if this was the most garish jacket in the Men's department, and he replied "Sorry, it's just the tip of the iceberg." And apparently so. There was even one that seemed to be a faux royal military outfit that might have been worn by Michael Jackson back in the day.
We then went to the Food Halls for some sweets:
Hard to believe, logo chocolates! 2017 photo by Wrongo
We moved on to visit the public school Wrongo's sons attended, which is co-ed now, these many years later. Then to the flat that Wrongo lived in on Cadogan Square in Knightsbridge. It sold recently for about £7.5million, a tribute to how out-of-reach real estate has gotten in central London in the intervening years.
We went to Ottolenghi Belgravia to purchase spices; sumac, and black garlic specifically. By now we were hungry, and moved on to Dishoom, one of the best Indian restaurants in London. For Connecticut residents, quality Indian food is very difficult to find, without driving at least an hour. So when one of the best is a ten-minute walk from your hotel, you have to visit. Maybe twice.
We loved Dishoom's Mahi Tikka, the Lamb Boti Kebab, and the House Black Daal, among others that were simply terrific.
Last evening we saw "Apologia" at the Trafalgar Studios. The play is about a disastrous family reunion between a Boomer career mother, her two grown male children, and the women in their lives. Stockard Channing is the mom (Kristen) who became an eminent and successful art historian, but was unable to keep custody of, or stay connected to, her two sons when they were young. Joseph Millson plays both sons very effectively. Some in our group didn't realize the same actor performed both roles. Simon says:
I have to tell you now that the thing I remember most about you is your absence.
Things do not go well at Mom's birthday dinner. The triggering point is Kristen's recently published book about her life, in which she fails to mention either son, Peter or Simon. When the sons and their partners Trudi (Downton Abbey's Laura Carmichael) and Claire (Freema Agyeman) show up for Kristen's birthday, they want only to confront her about her decisions, both about her career and the book that represents it. Over the course of the evening, Kristen is forced to confront her sons' antipathy for her, because of her commitment to career over family.
There is plenty of humor to cut the tension of the many confrontations, but ultimately, Kristen is left alone and unloved, a prisoner of the choices she made.
Stockard Channing is the lead, and turns in an excellent performance as Kristen, but it was Laura Carmichael as Trudi, the "Wisconsin nice" fiancée of Peter who knocks it out of the park. Trudi is a born-again Christian who seems naïve, possibly insipid, and a less-than-worthy opponent for Kristen. But it is Trudi who delivers the coup de grace to Kristen in the final moments of the play.
Excellent. See it if it comes to the US.