The Daily Escape: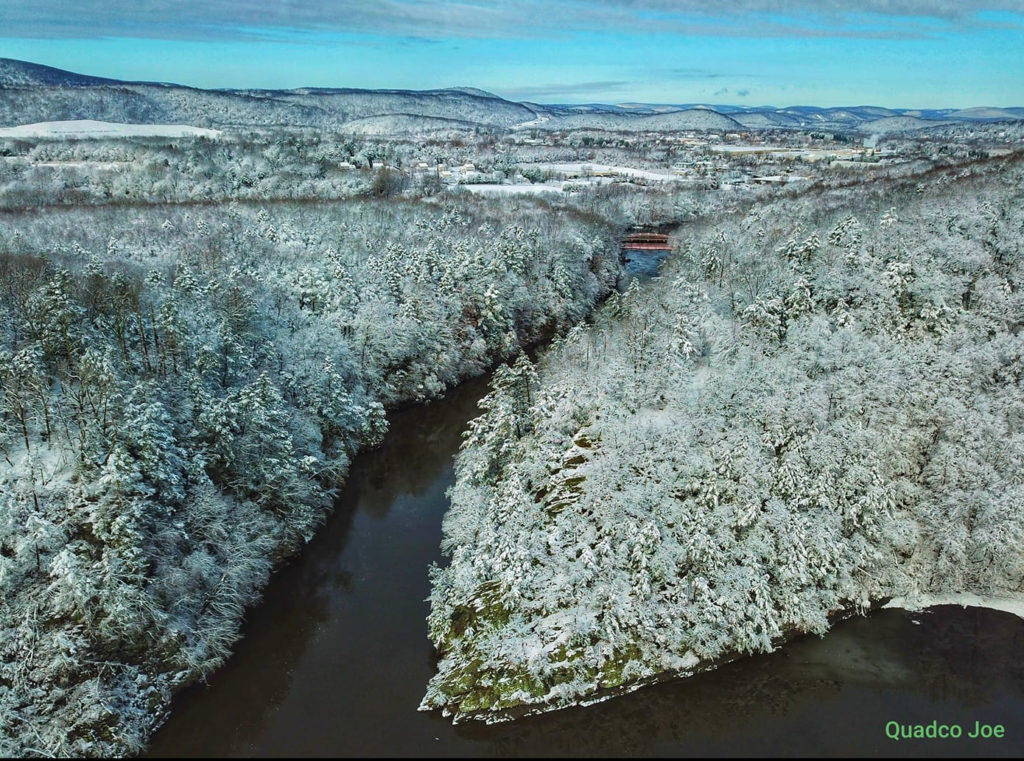 Lover's Leap, New Milford CT after this week's snow – December 2019 drone photo by Quadco Joe
The House Judiciary Committee voted to send two articles of impeachment against Donald Trump to the full House. The vote took just two minutes, and as Wrongo said yesterday, it will be portrayed as the party line vote it was, with 23 Democrats in favor, and 17 Republicans against.
It was a tribute to the political polarization in today's America, with striking diversity on the Democrats' side, as well as lack of diversity on the Republicans' side. From Marcy Wheeler:
"The Democrats who voted in favor included 11 women, and 13 Latinx and people of color (Ted Lieu missed the vote recovering from a heart procedure). Three (plus Lieu) are immigrants. One is gay. These Democrats voted to uphold the Constitution a bunch of white men, several of them owners of African-American slaves, wrote hundreds of years ago."
All the Republicans who voted against were white, and just two were women. They voted to permit a racist white male President to cheat in order to get reelected, in violation of the rule of law.
This is a clash between the America that is coming, and its past. It's unclear who will win this battle, but the stakes are high, and will become even higher in 2020.
Wrongo believes that rushing to an impeachment finding was a strategic error by Democrats. This should have been moved along slowly. House Democrats needed to go through discovery on all the obstruction of justice, Constitutional emoluments and separation of powers violations, campaign finance violations, and bribery violations. They should have taken the time to use their Article I power to get the oversight disclosure and testimony they have been denied by the Trump White House.
But, no. The House Democrats didn't do any of that. Instead, they focused on one phone call when there was little reason to rush, and plenty to be gained by keeping Trump on the defensive for the next year.
A deeper dive into the issues could have made an Impeachment Resolution with a more effective result. It wouldn't have changed the outcome of the vote in a Senate trial. But it would have provided continuing education to the public, along with fuel for effective articles and ads about Trump's lawlessness.
With the weekend upon us, it's time to contemplate all that must get done between here and New Year's. Wrongo's list is too long, but somehow, he hopes everything is done by then. However, let's start by kicking back and forgetting about the list, the Impeachment and budget deal. Let's clear our minds, and have another Saturday Soother.
Start by brewing up a large cup of Mexico Chiapas Dark Roast ($13/12oz.) with its notes of dark chocolate, hints of molasses and brown sugar. It's from Sacred Grounds Coffee in Sherman CT, who we've featured here once before.
Now, listen to Nocturne "Reverie Op. 19" by Giulio Regondi. Regondi was a Swiss-born classical guitarist, and composer active in France and (mainly) the UK. It is played by Drew Henderson:
Those who read the Wrongologist in email can view the video here.