The Daily Escape: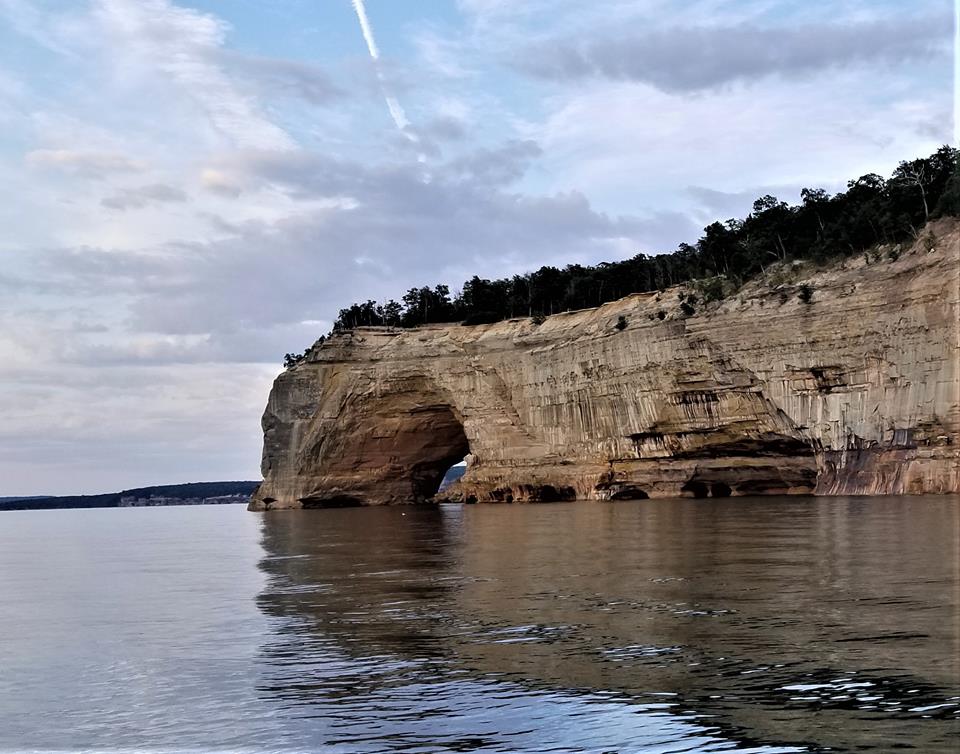 Upper Peninsula MI, 2017 – photo by Otto Heldring
There's a depressing overtone to Charlottesville that suggests the arc of history is the energy behind the story. Is the nation's soul about to be divided as it has been many times before? Americans get two chits: One for the ballot box, and another for the soap box. Many people feel compelled to use both. The existential question is how best to use them.
The Charlottesville incident left a woman dead, and many others badly injured from a car-ramming. It has the flavor of a "first shot" in a new civil war. And the president's criticisms of counter-protesters in Charlottesville seem to be far outside the mainstream. Frank Bruni, NYT:
We're stuck for now with a morally bankrupt plutocrat for president, someone so defensive and deluded that he's urging more nuance in the appraisal of neo-Nazis.
Still, many Republicans have been reluctant to condemn Trump's Charlottesville rhetoric. The right would do well to excise any association with the Hitlerites who chanted "blood and soil" in their torch-lit pseudo Nuremberg rally in Virginia. America remains the land of the free and the home of the brave, but Nazis? Nein, Danke.
We have two conflicts arising from Charlottesville:
Does every group still have the right to assemble (peacefully) and speak their minds?
What are we to do about the symbols from our divided past?
The 1st Amendment protects most speech, but not the sensibilities of those who are exposed to it. Some speech is guaranteed to be offensive. America has lived with neo-Nazis, the KKK, et al for Wrongo's entire lifetime, and has survived it, no matter how odious. Even the ACLU assisted the neo-Nazis in Charlottesville.
But there are recognized limits. No one has a right to incite violence. Individuals have no right to defame someone. Some of the limits are easier to define than others: The concept of inciting a riot can lead to a subjective reading of the facts and the application of nebulous standards.
Today's wrinkle are the armed demonstrators. They imply that a peaceful assembly could be placed at grave risk at any moment. It shouldn't be difficult to foresee that local people will come out to confront neo-Nazis and white supremacists that are marching in their town. That creates even greater risk of physical violence, and requires that local police are well-trained and disciplined.
Second, there are Confederate statues all over America. The white supremacists who went to Charlottesville to "protect" Lee's statue need to hear that we will not re-litigate the Civil War. The south's and the nation's history are what they are. The Civil War should be given due weight, learned from, pondered, and not shunted aside. Are Robert E. Lee's existence, deeds, and historical relevance news to anyone?
A suggestion: In Bulgaria, the USSR monuments were removed and placed in a single museum park. The museum's collection covers the period 1944 to 1989, from the introduction of communism in Bulgaria, to the end of the totalitarian regime. Herding those statues into one place makes a statement that speaks loudly about the era, and how the USSR deprived Bulgarians of their rights.
Maybe a few such statue parks could have a similar effect here.
Let's not get sidetracked from the most important issue before us: How we remake the US economy so that it provides a decent standard of living and expanding opportunity to as many people as possible.
There are plenty of "deplorables" who would benefit from universal health care, inexpensive college tuition for their children, infrastructure that worked, and good-paying jobs. Uniting the US population around programs that achieve these goals would do much to subdue the angry ethnic divisions that these "political entrepreneurs" are trying to foment.
Moreover, this program is not of the right or the left.
It's a path toward political stability and a better society – one that would allow people the opportunity to develop into contributing, thoughtful citizens, capable of fully participating in the Republic.
Ok, a tune to help you think about peaceful assembly and whether the statues should stay or go. Here is Depeche Mode with "Where's The Revolution" from their 2017 album "Spirit". Wrongo didn't know they were still working, much less producing relevant tunes:
Takeaway Lyric:
You've been kept down
You've been pushed 'round
You've been lied to
You've been fed truths
Who's making your decisions?
You or your religion
Your government, your countries
You patriotic junkies
Those who read the Wrongologist in email can view the video here.