The Daily Escape: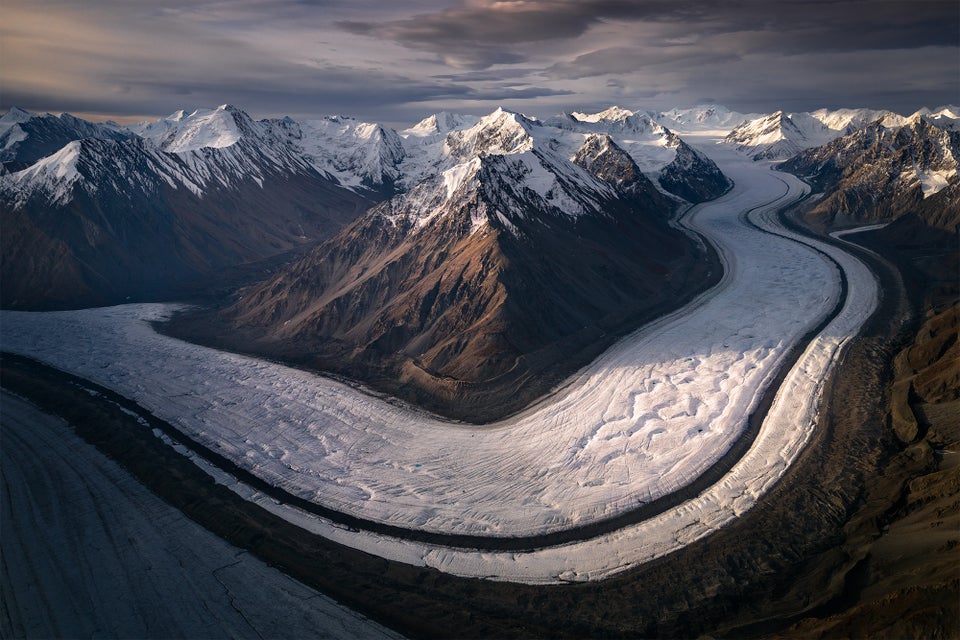 Kaskawulsh Glacier, Kluame NP, Yukon, CN – 2019 aerial photo by Picture Party
Last Saturday, the WSJ reported that the Trump administration had warned Iraq that it might shut down Iraq's access to its account at the Federal Reserve Bank of New York (FRBNY), if Baghdad carries through on its threat to kick out American forces.
Iraq, like most other countries, maintains accounts at the New York Fed as an important part of managing the country's finances. This account receives revenue earned from foreign trade, including in Iraq's case, sales of oil. Loss of access to their accounts would restrict Iraq's ability to use their funds to settle foreign transactions, or to repatriate funds needed in their domestic economy. AFP, citing an unnamed Iraqi official, reported that the balance stands at about $35 billion.
From the WSJ:
"The New York Fed provides banking and other financial services for around 250 central banks, governments and other foreign official institutions, such as the account owned by Bangladesh from which North Korean agents were able to steal $81 million in 2016, U.S. officials have said."
The FRBNY has the authority to freeze accounts under US sanctions law, or if it has reasonable suspicion that use of the funds could violate US law.
This financial threat isn't simply theoretical: Iraq's financial system was squeezed in 2015 when the US suspended access to the central bank's account at the FRBNY for several weeks over concerns the cash was filtering from Iraqi sources through loosely regulated Iranian banks and on to ISIS.
We've occasionally frozen foreign countries' assets, in both the Federal Reserve Bank and in US commercial banks, typically when a country has engaged in illegal activity, or when a revolution has occurred. We did this after the overthrow of the Shah of Iran in 1979. Those funds were released by the Obama administration in 2017, when the US unfroze some $150 billion in Iranian blocked assets as part of the Iran nuclear deal.
Iraq is a weak nation with a fragile economy, so it has to take the US threat to freeze its central bank's assets at the Fed very seriously. Freezing their account would also end any semblance of a friendly relationship between it and the US. It could also become a challenge for the US if Russia and China stepped in to rescue Iraq by weakening the role of the US dollar as the global reserve currency, that is, a currency used to settle foreign trade obligations.
America has become enamored with stopping the global free flow of funds for regimes it doesn't like. Our sanctions regime is used so frequently that it is difficult to get an overall list of individuals and organizations that are under sanction. The US government maintains a sanctions search engine here.
Interrupting the flow of international settlements by the US has caused competitor countries to try to establish settlements in currencies other than the dollar. To date, there hasn't been much success. Wolf Richter reports that the US dollar's share of global reserve currencies has fallen from 65% in 2014 to 61.8% today, with the Euro in 2nd place and the Yen in 3rd.
Will the downward trend of the dollar as a reserve currency continue? Possibly, but if the US continues to act to restrict money flows, it will occur faster and more sharply than it might otherwise.
There is a kind of desperation in Trump's threat. We've spent 18 years in Iraq and it comes to this? Critics of the threat say that it amounts to blackmail, or extortion. Wrongo believes he's recently heard this about Trump and another country, too.
Is this desperation President Trump's, or is it a reflection of a deeper desperation on the part of the US ruling elite? Are we seeing the beginning of the end of US omnipotence through the dollar's role as the dominant global trading currency?
Is it wrong to bring up how Republicans attacked Obama for "abandoning" Iraq even though Iraq wanted us out in 2010? The GOP saw the US leaving Iraq as a mistake. They were glad when we were invited back to help defeat ISIS. Now, the question is: Will we leave under a Republican president?
How would Trump react if a local armed resistance against a US occupying force in Iraq used force of its own to try and get their money back?
Are we really going to punish Iraq because they have asked us to leave?
Isn't it their country?