After the Women's March, both Trump and his press bunny, Sean Spicer, said that the numbers of attendees at the Trump Inaugural was the largest of all time. How can Spicer explain this?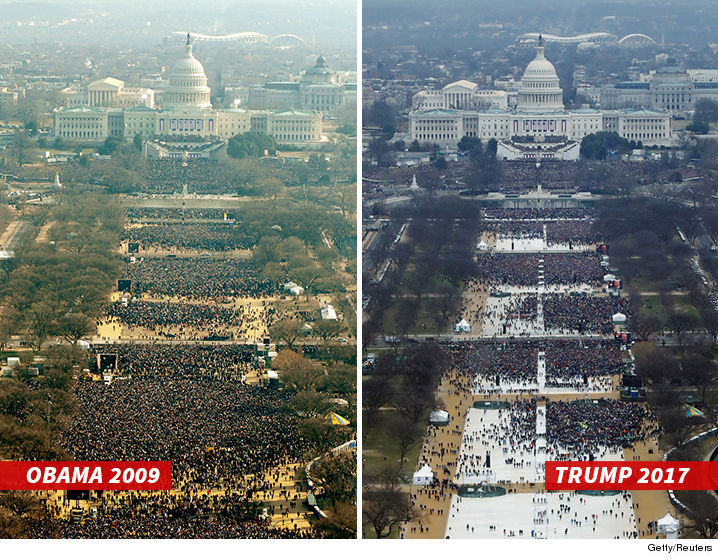 Why bother explaining? From Media Matters:
In a surreal turn, White House Press Secretary Sean Spicer tonight denied reality, lashed out at the press for its supposed "shameful and wrong" coverage of the size of the crowd that attended President Trump's January 20 inaugural festivities, instructed the White House press corps on what they "should be writing and covering," declared that the administration intended to "hold the press accountable," and left the briefing room without taking questions
For those who think they can trust Spicer, here are a few more links:
Trump inauguration crowd: Sean Spicer's claims versus the evidence (Guardian)
White House Disputes Inauguration Attendance Estimates (WSJ)
Trump inauguration draws nearly 31 million U.S. television viewers (Reuters) Absolute numbers were fewer than Obama, better than Clinton and both Bushes.
Trumpism Corrupts: Spicer Edition (Weekly Standard)
With False Claims, Trump Attacks Media on Turnout and Intelligence Rift (NYT)
If Spicer wanted to avoid a confrontation, he could have shut down the discussion by saying that Trump's supporters had to work on a Monday, because of the terrible jobs situation in America. But he tried ju-jitsu instead.
We should be very concerned about the lying and the angry effort to turn the tables on the press by Trump and his press secretary. They wouldn't even tell the truth for something that is totally knowable, and then they attacked those who reported truthfully.
It is clear that the Trump administration plans to bully the press until: a) they stop attending press conferences, and/or b) stop digging for the real facts behind any bald-faced Trump administration assertion.
There are just three choices here:
You think lying is wrong
You think lying is OK
You are a hypocrite who moves between options 1 & 2 depending on whether you're benefiting from the lie, or being harmed by it
The Overlord thinks he has no need to speak the truth, because he can just deny that whatever he disagrees with is true, and have some 20 million of his diehard twitter followers re-trumpet that he is correct.
This is a real threat to democracy! It is looking like Trump will be the Bullshitter-in-Chief, broadcasting a daily smokescreen of "fake news" (formerly, propaganda) while his cabinet of billionaires work to enrich themselves and Trump's friends, and the Republican Congress tries to turn America into Paul Ryan's granny-starver version of Ayn Rand's paradise.
Bush's and Rove's "we manufacture our own reality" ultimately failed, and it seems Trump is trying the same thing but with a much weaker hand. We thought that Bush was incompetent and couldn't do the job, and he was well on his way to proving that when 9/11 happened, and suddenly everyone was "rallying around our president". Trump would also be seen as a terrific leader by a majority if he was talking through a bullhorn from the top of a pile of rubble.
And Trump won't miss any opportunities to tweet glowing assessments of his performance. Thus, he has no need to engage in an honest evaluation of anything when a quick, preemptive hit works so well for him.
So time for the press to wake up and flay the Trump administration whenever they dissemble. The press now has a new organizing principle called the quest for truth. Something that has been missing for nearly 30 years.
To help them wake up, here are the Eagles with "New Kid in Town" from their 1976 "Hotel California" album. Released as the first single from the album, the song became a number-one hit in the US. Glenn Frey died late last year. He is missed. Here is "New Kid in Town" in a live version from their show in Washington, DC in 1977 at the old Capitol Center:
Time to hold the new kid responsible for his lying.
Sample Lyrics:
There's talk on the street, it sounds so familiar.
Great expectations, everybody's watching you.
People you meet they all seem to know you,
Even your old friends treat you like you're something new.
Johnny-come-lately, the new kid in town,
everybody loves you, so don't let them down.
There's talk on the street, it's there to remind you
That it doesn't really matter which side you're on.
You're walking away and they're talking behind you.
They will never forget you till somebody new comes along.
For those who read the Wrongologist in email, you can view the video here.