The Daily Escape: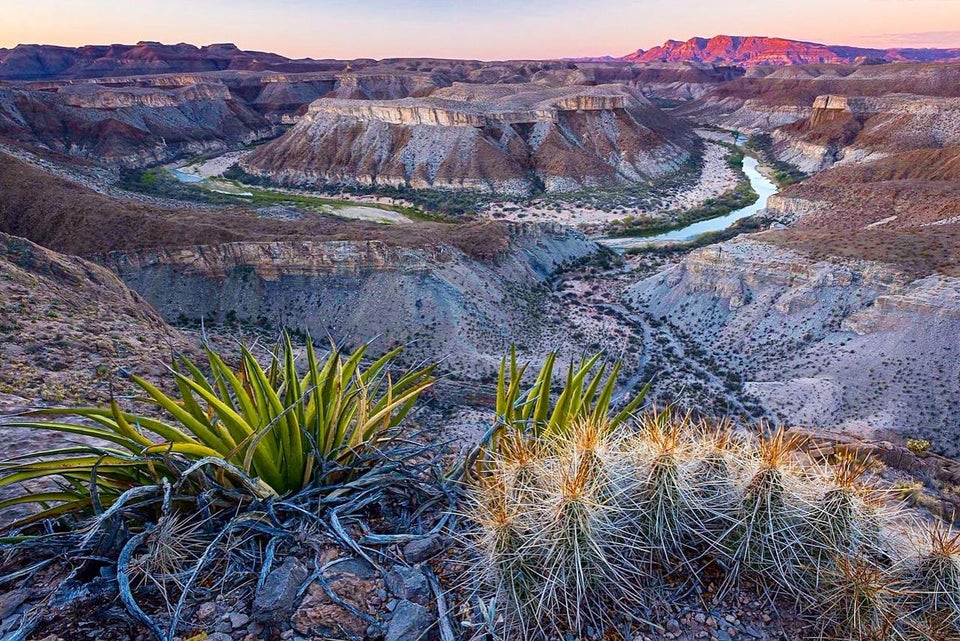 Sunrise, Mesa de Anguila, Big Bend NP, TX – 2020 photo by pierceingramphotos.  
Trump spoke from the Oval Office about the pandemic on Wednesday night. It left most of us puzzled regarding whether our government is capable of more than a banana republic response to our public health crisis.
Trump offered no top-level guidance or policy, and no explanation for why testing remains largely unavailable. He issued vague promises of loans for businesses and tax deferments to individuals soon to have no jobs or incomes to tax.
Health care support for victims? Nada.
He labeled the Coronavirus a "foreign virus". Several GOP Congresscritters are calling it the "China Virus". What are Republicans trying to accomplish with this reframing?
His 30-day travel ban from Europe is a stop-gap way to wall off America from certain infected foreigners. Remember that in February, he did the same thing with China. He announced his European ban while saying it would not apply to the UK, where the virus has an established foothold. It also doesn't apply to South Korea, which has the largest number of infections outside China. Again, what's his point?
We hoped for a significant statement about controlling the spread of the virus in the US, but there was nothing. And since that was ostensibly the point of his little talk, it indicates that he either doesn't know how to control the spread of the virus inside the US, or, doesn't think that kind of program would help to keep him in office after November.
From Charlie Pierce:
"You knew it was all going to go terribly wrong in the first few sentences when the president* referred to the source of the pandemic as "a foreign virus"—This is the most aggressive and comprehensive effort to confront a foreign virus in modern history….the claim was as false as it was stupid. As the Washington Post helpfully points out, the administration*'s response to this outbreak has been to deny it, ignore it, downplay it, and now to use it as an excuse to ram through some tax cuts, a form of antibiotics that Joseph Lister never thought of."
More tax cuts? Perhaps the one takeaway from the past two weeks, and from Trump's Oval Office speech, is this:
"All the King's tax cuts for all the King's men
Won't keep the Coronavirus from coming in"
People were expecting Trump to declare a national emergency but he didn't, because he's in a quandary. He doesn't want to declare it despite the fact that we're already in one. It would make a lie of his talking points that there's nothing to worry about.
But remember last year, when he stirred up emotions about "an invasion of our country with drugs, with human traffickers, with all types of criminals and gangs"? He was happy to declare a National Emergency to get some of his wall built.
Emergency to stop immigrants? Sure. Emergency to save American lives? I'm thinking….
Here's a long quote from David Frum:
"This crisis is not of Trump's making. What he is responsible for is his failure to respond promptly, and then his perverse and counterproductive choice of how to respond when action could be avoided no longer….No American president, and precious few American politicians, have ever pointed so many fingers or hurled so much abuse as Donald Trump. What he means, of course, is: Don't hold me to account for the things I did.

But he did do them, and he owns responsibility for those things….

More people will get sick because of his presidency than if somebody else were in charge. More people will suffer the financial hardship of sickness because of his presidency than if somebody else were in charge. The medical crisis will arrive faster and last longer than if somebody else were in charge. So, too, the economic crisis. More people will lose their jobs than if somebody else were in charge…More savers will lose more savings than if somebody else were in charge. The damage to America's global leadership will be greater than if somebody else were in charge."
Let's close with Tom Sullivan:
"The only saving grace in this graceless, classless, heartless presidency is that this virus may end it…"
However, only if Biden wins in November.
Trump and the Republicans who enabled him in order to get their tax cuts and judges, must go.